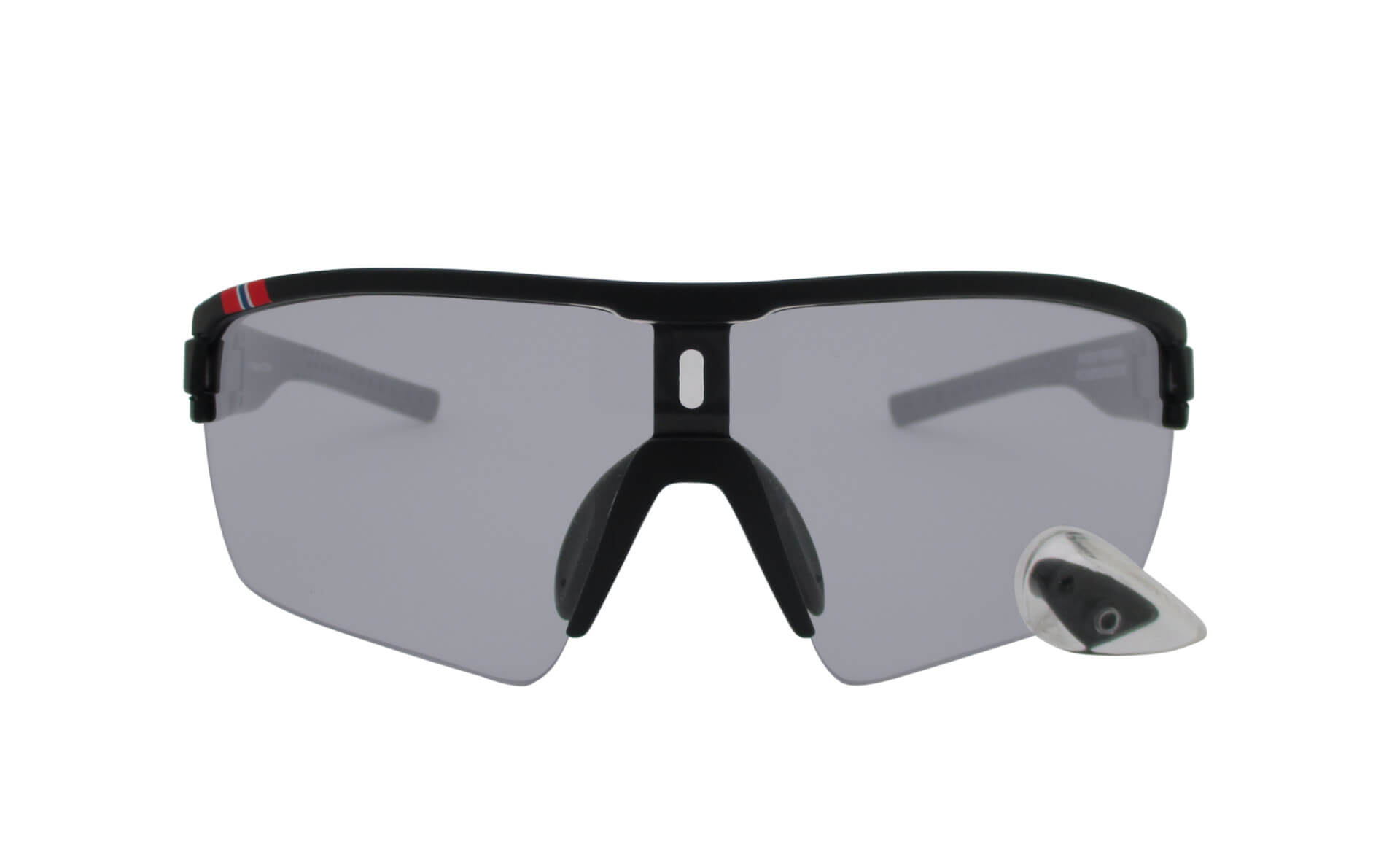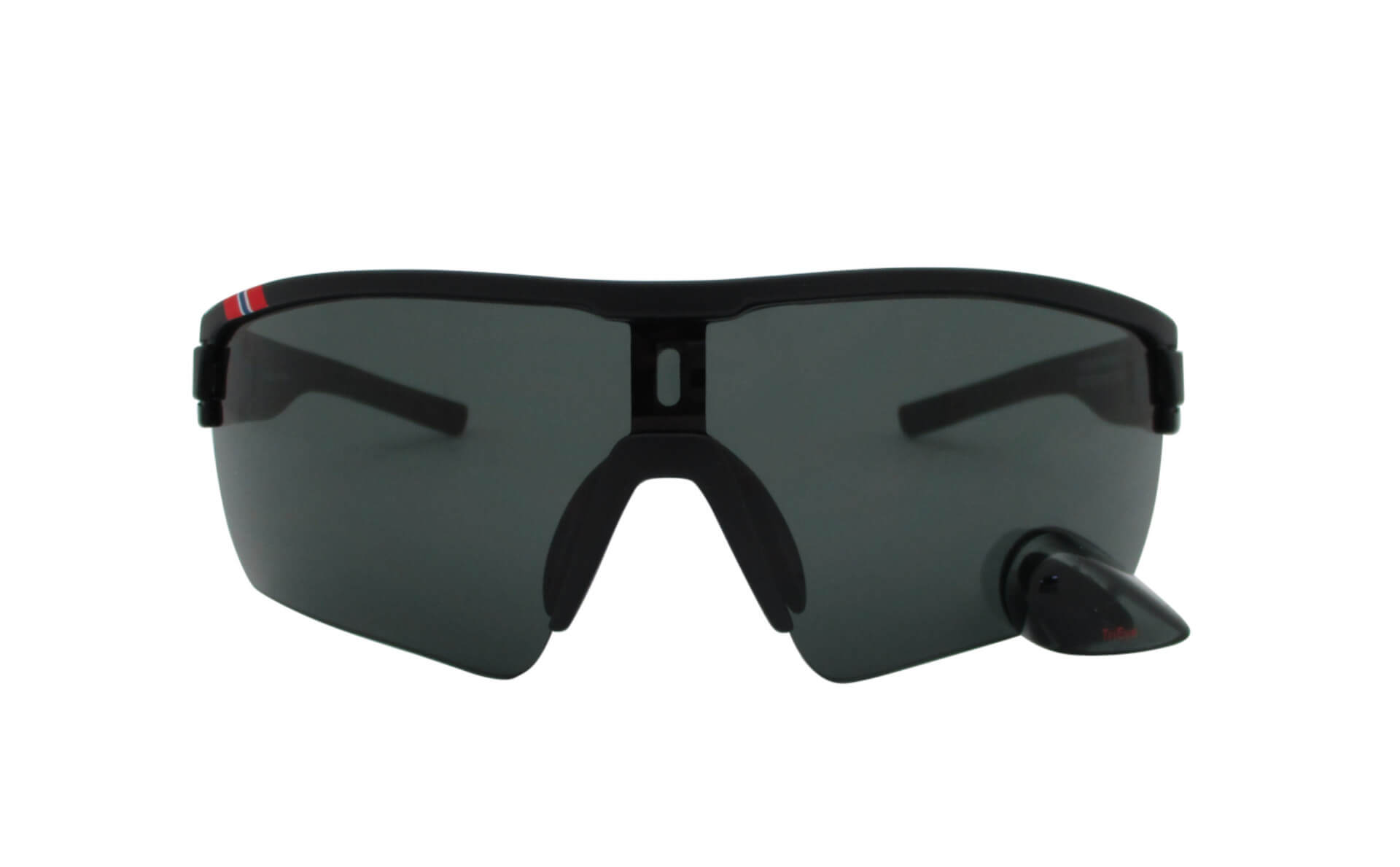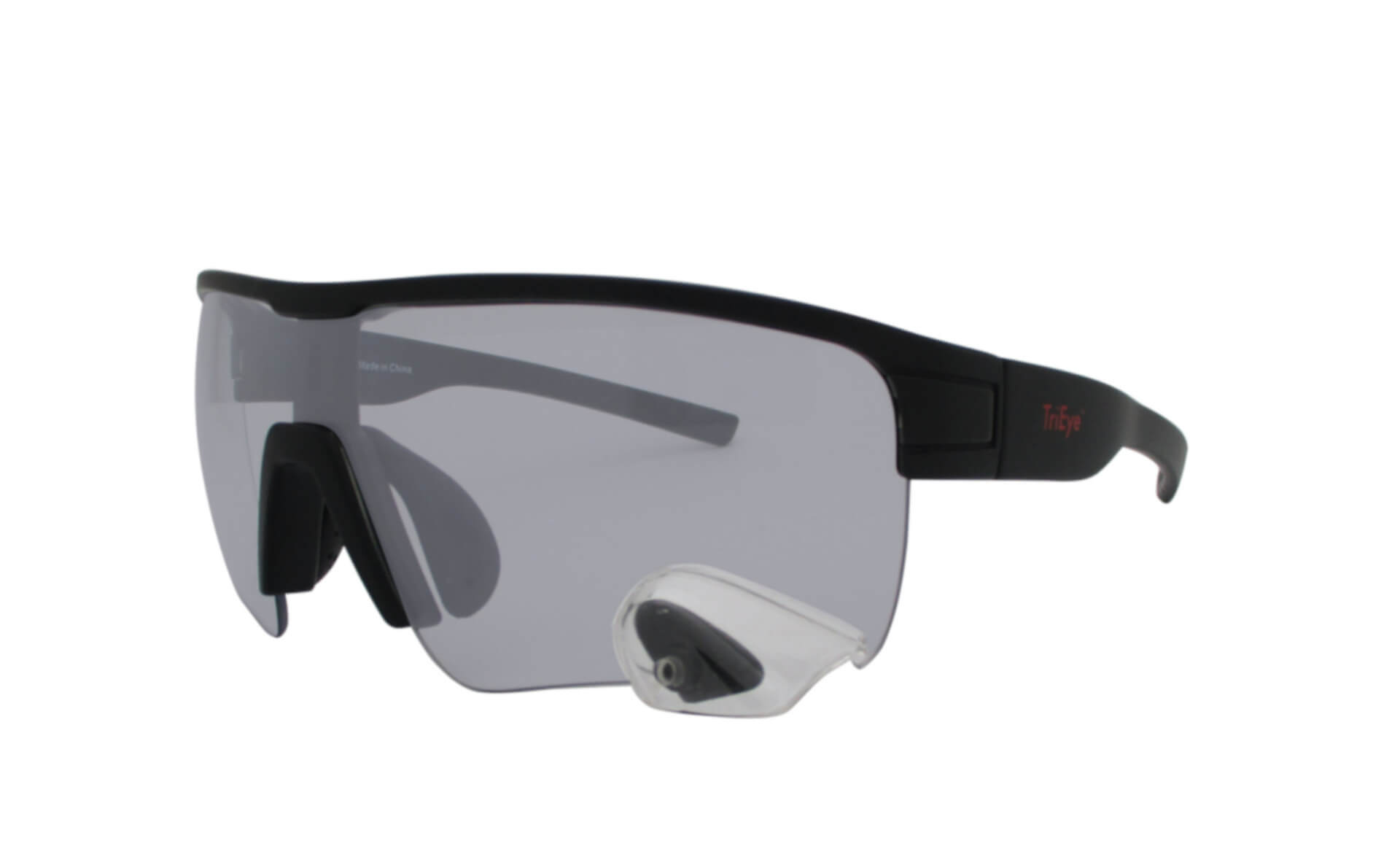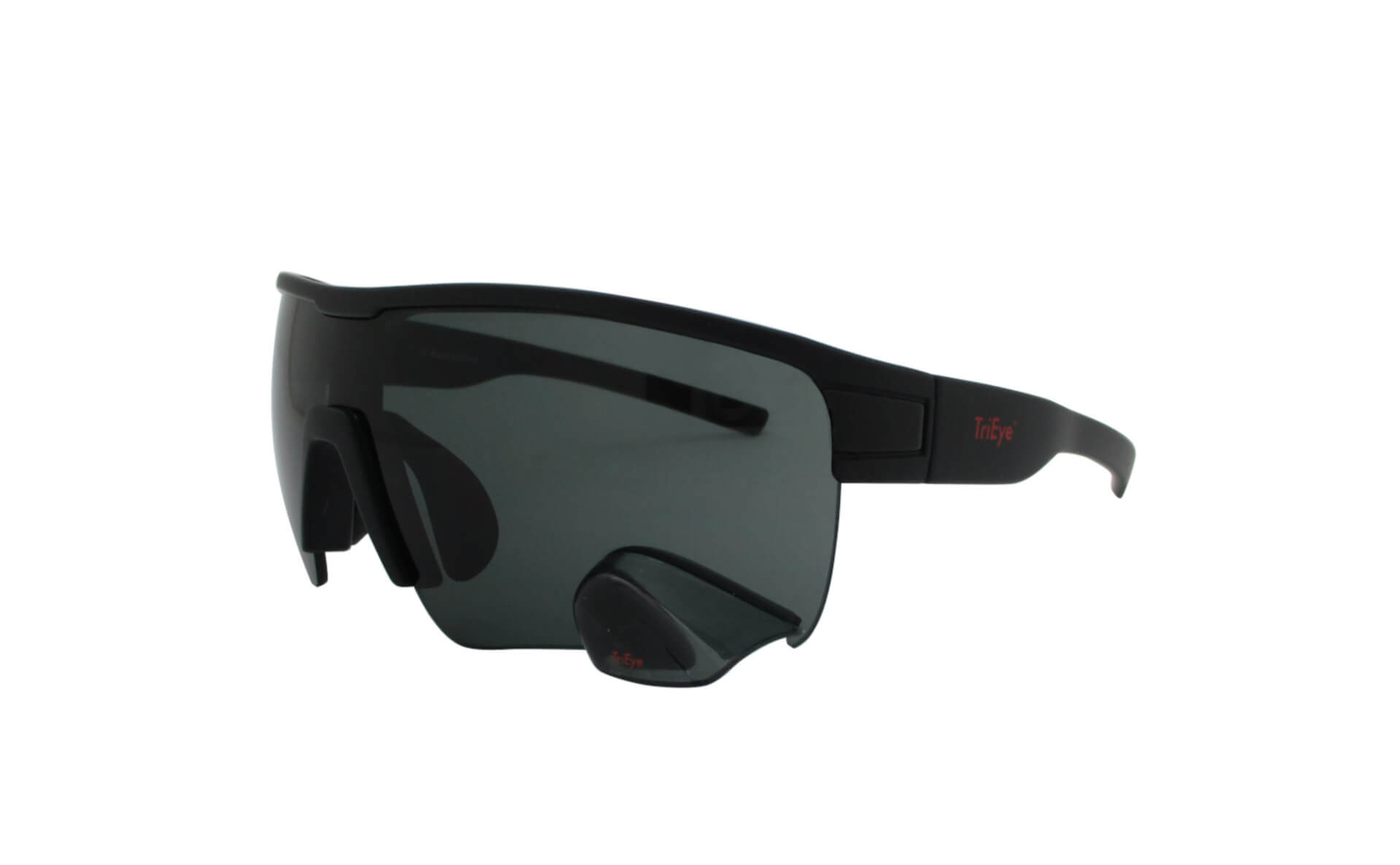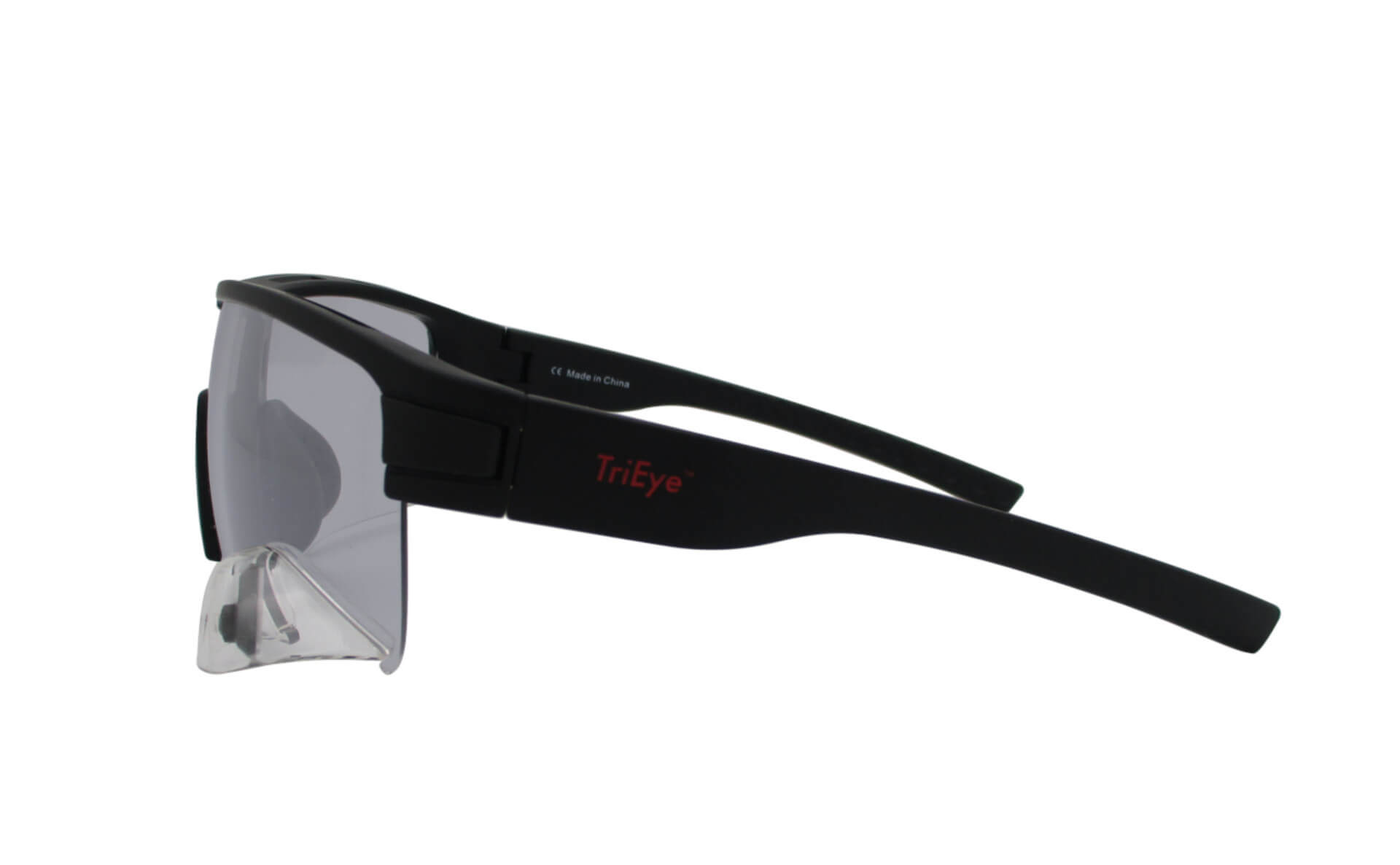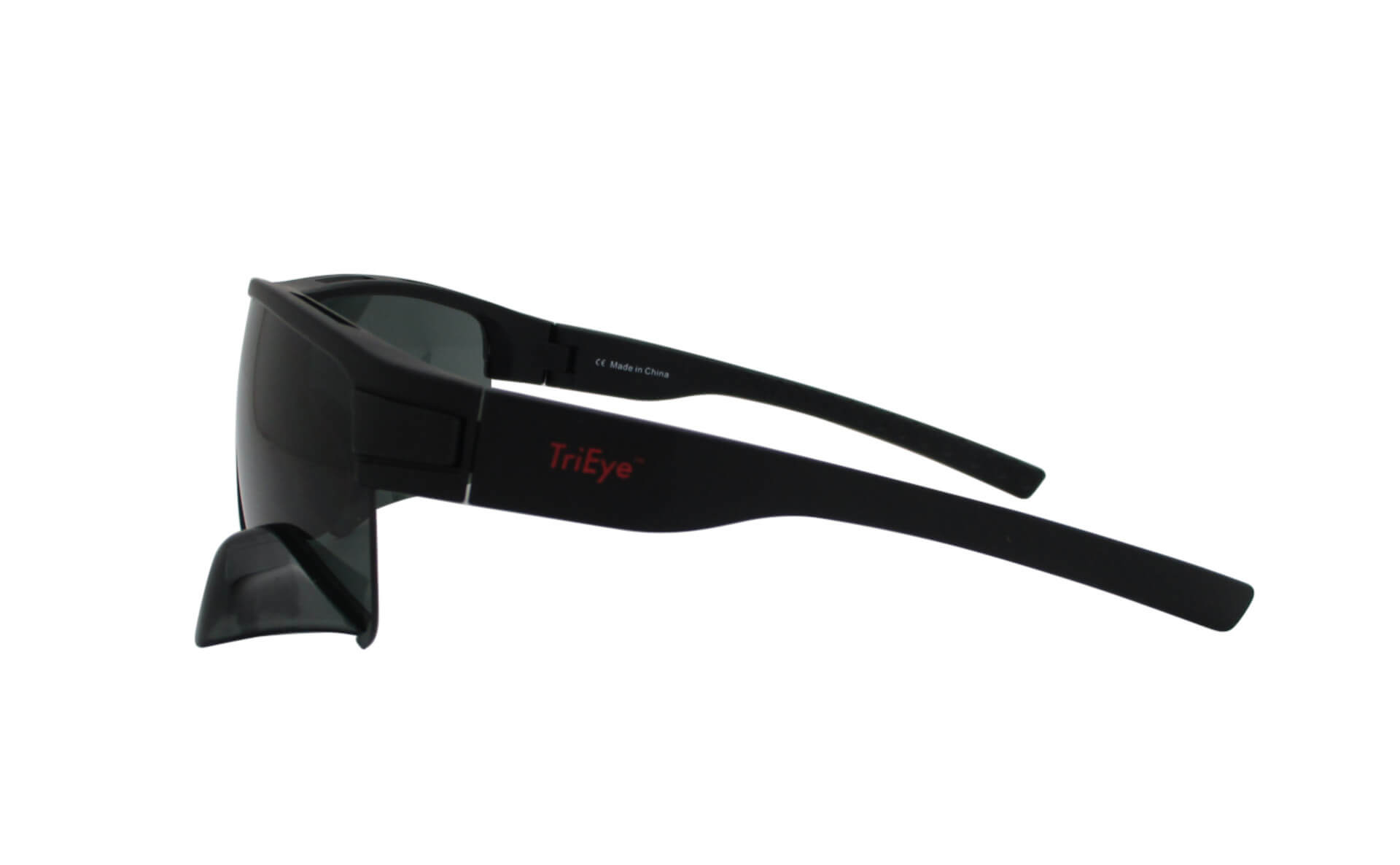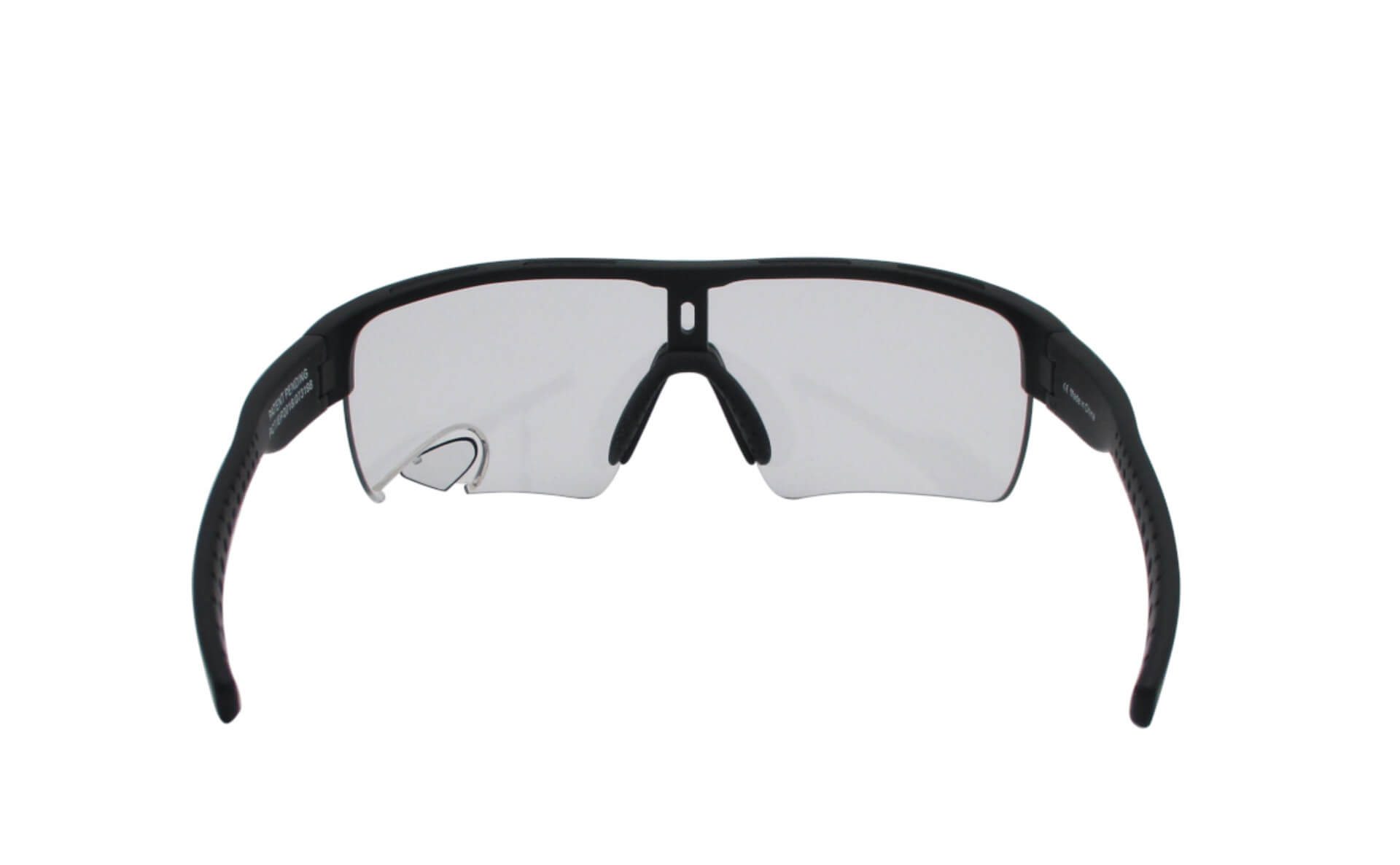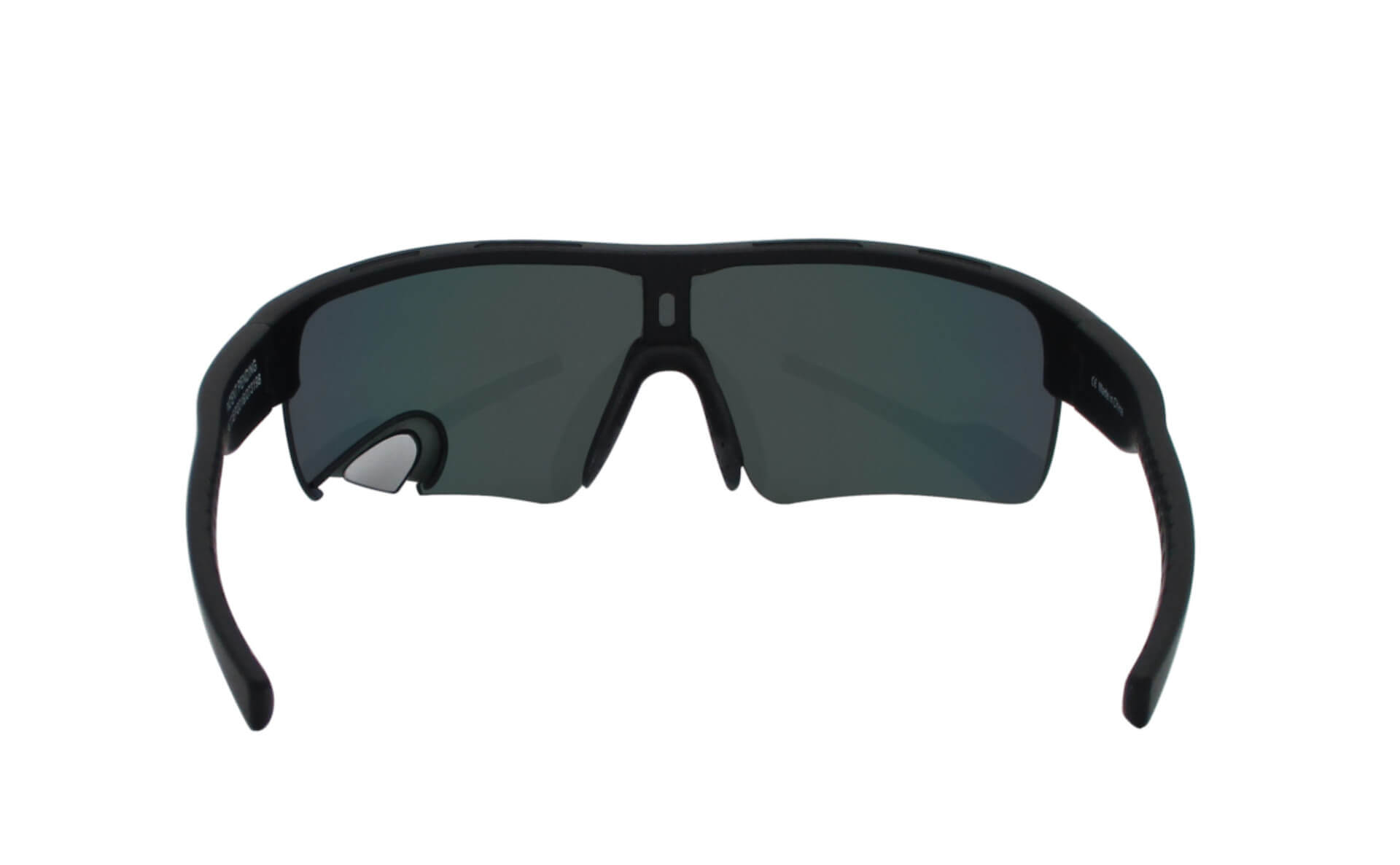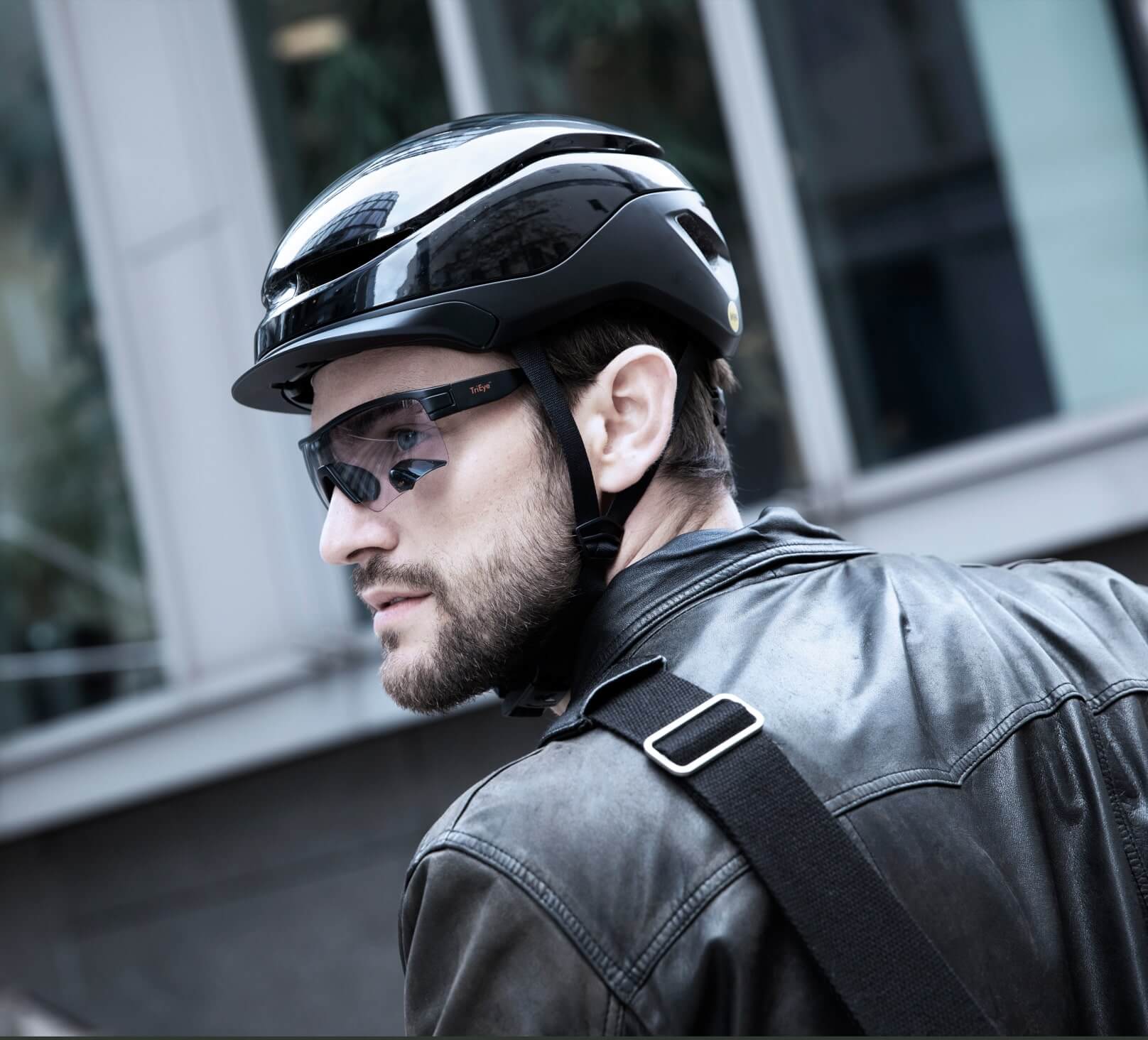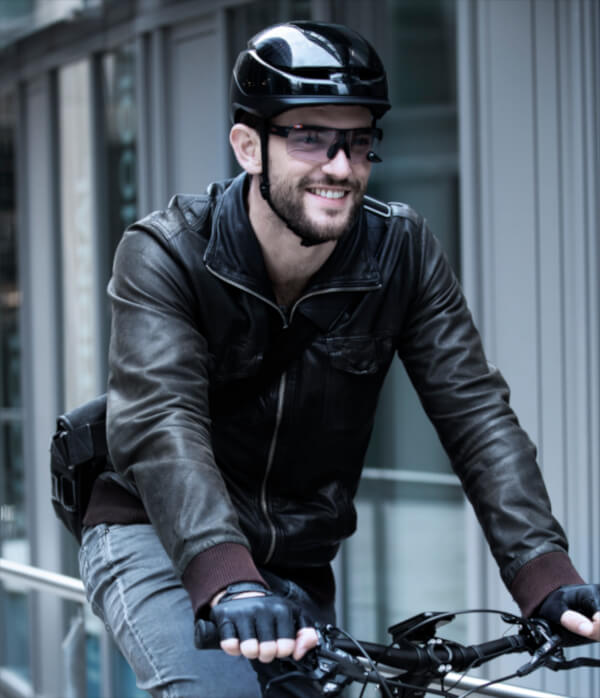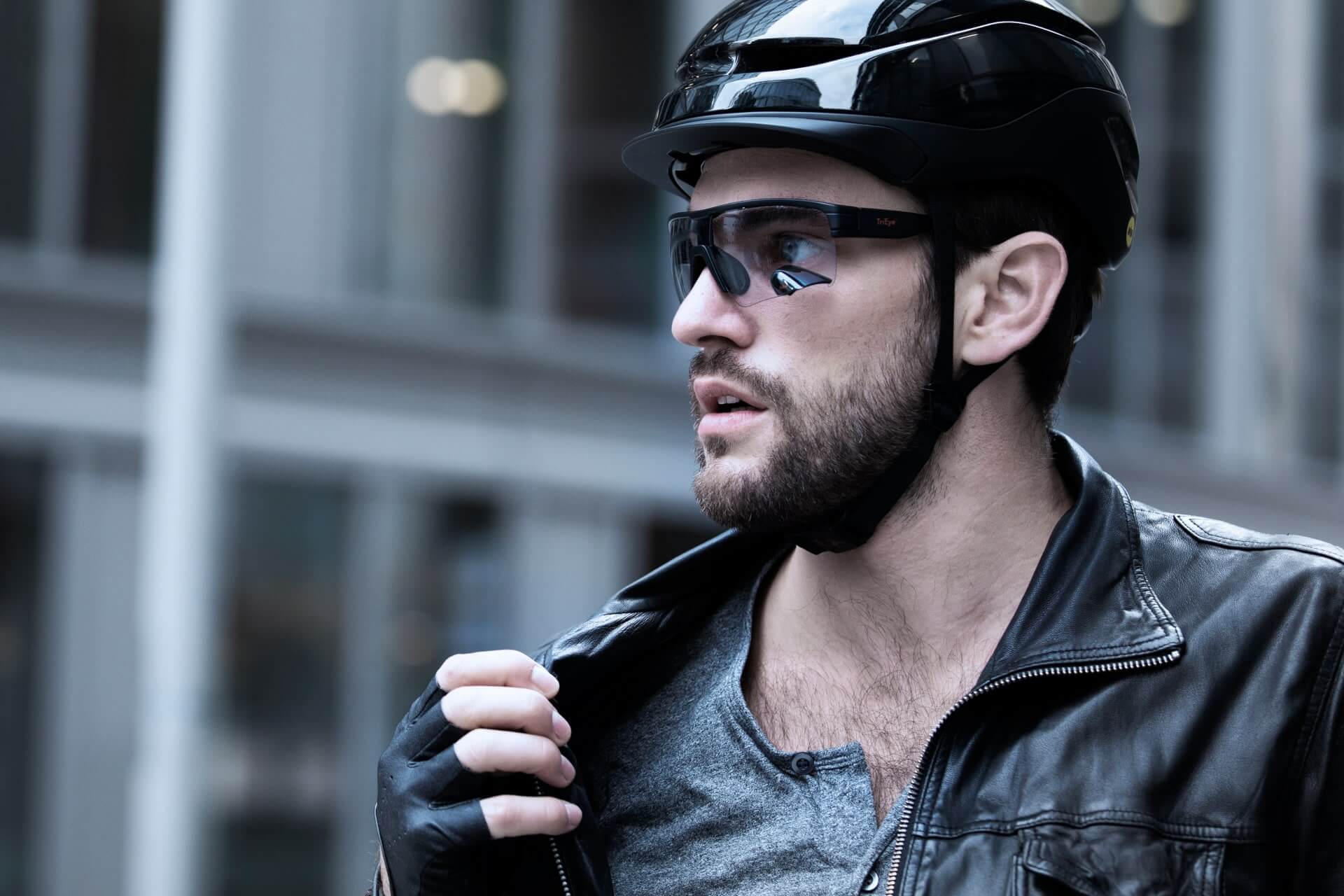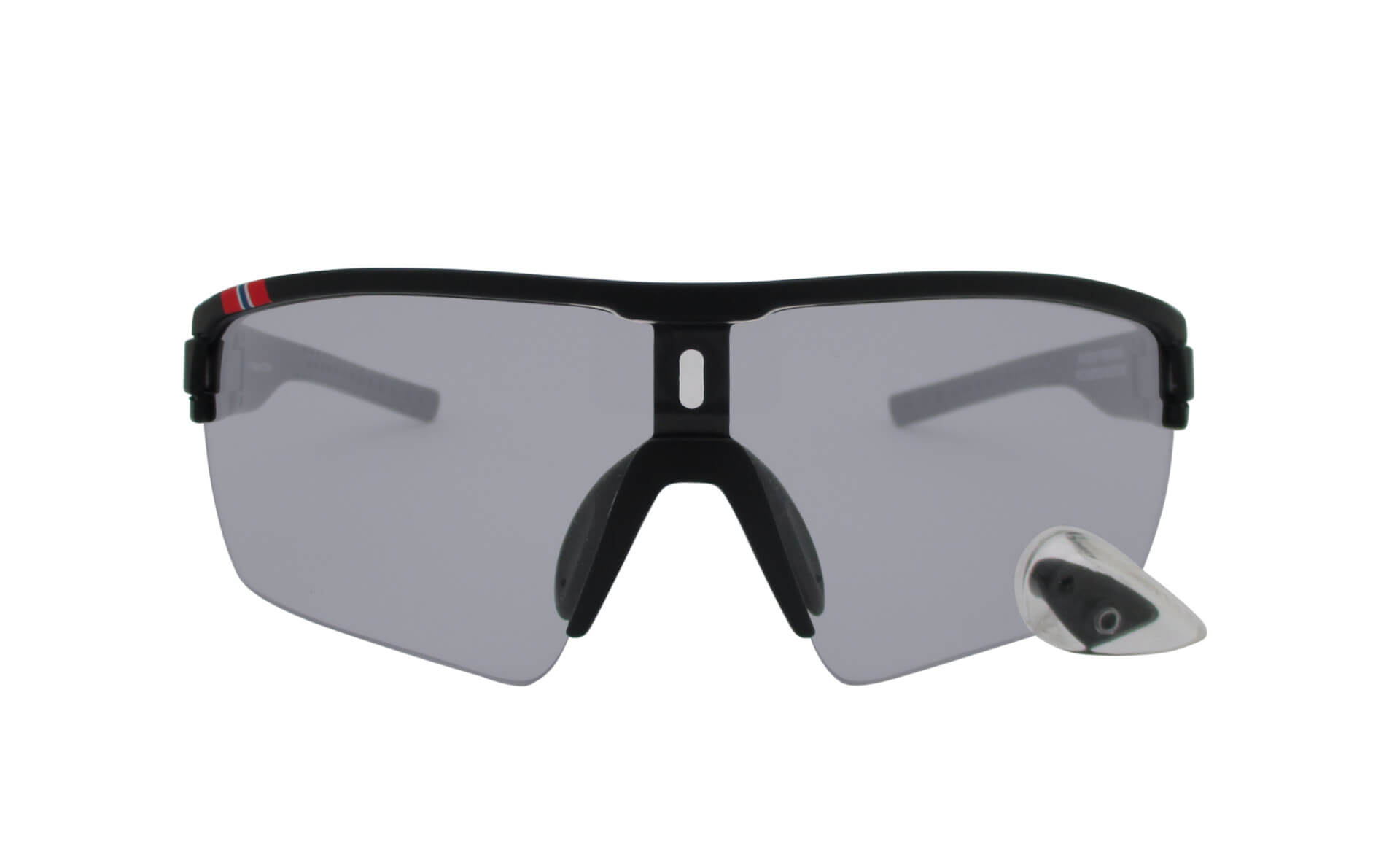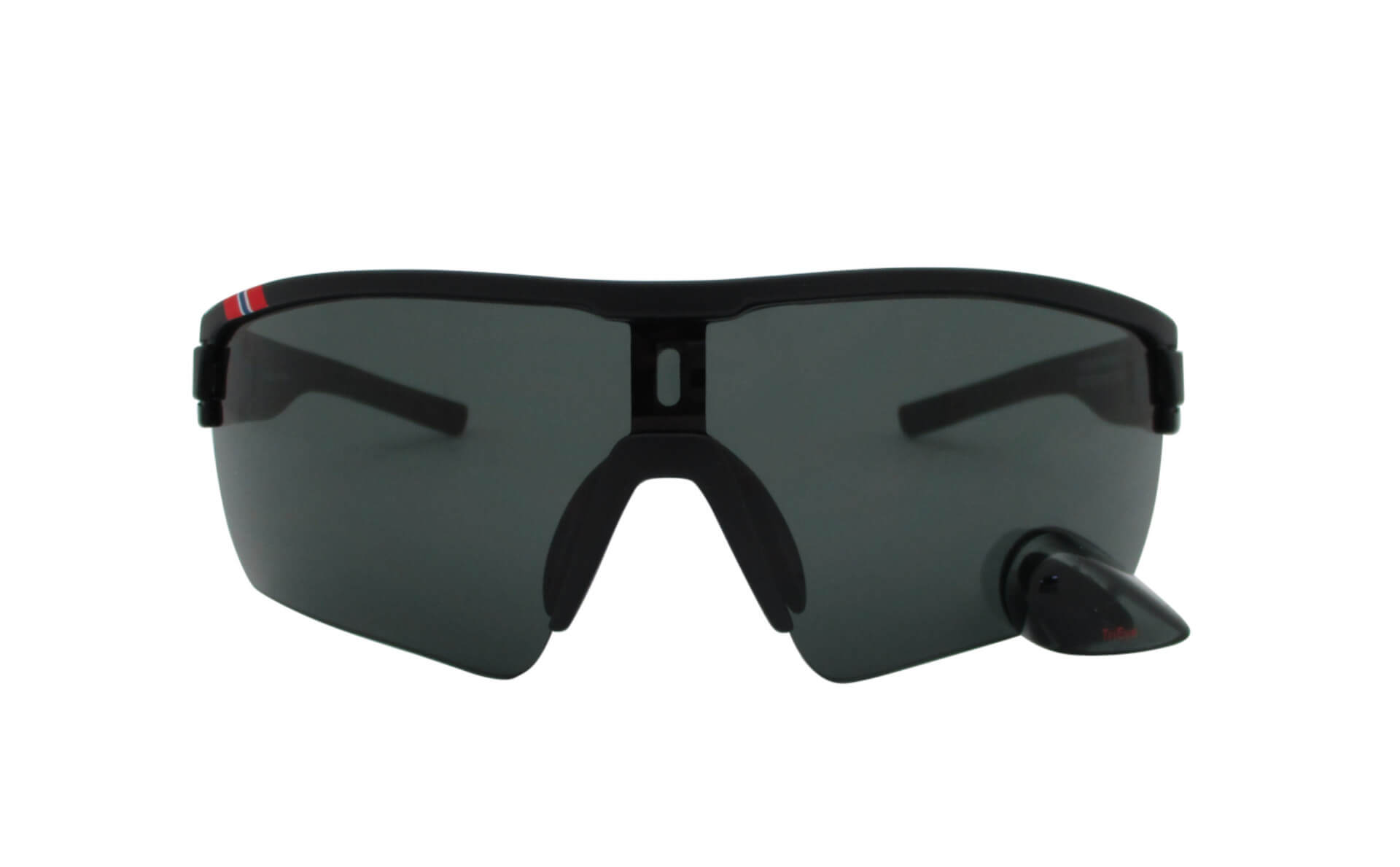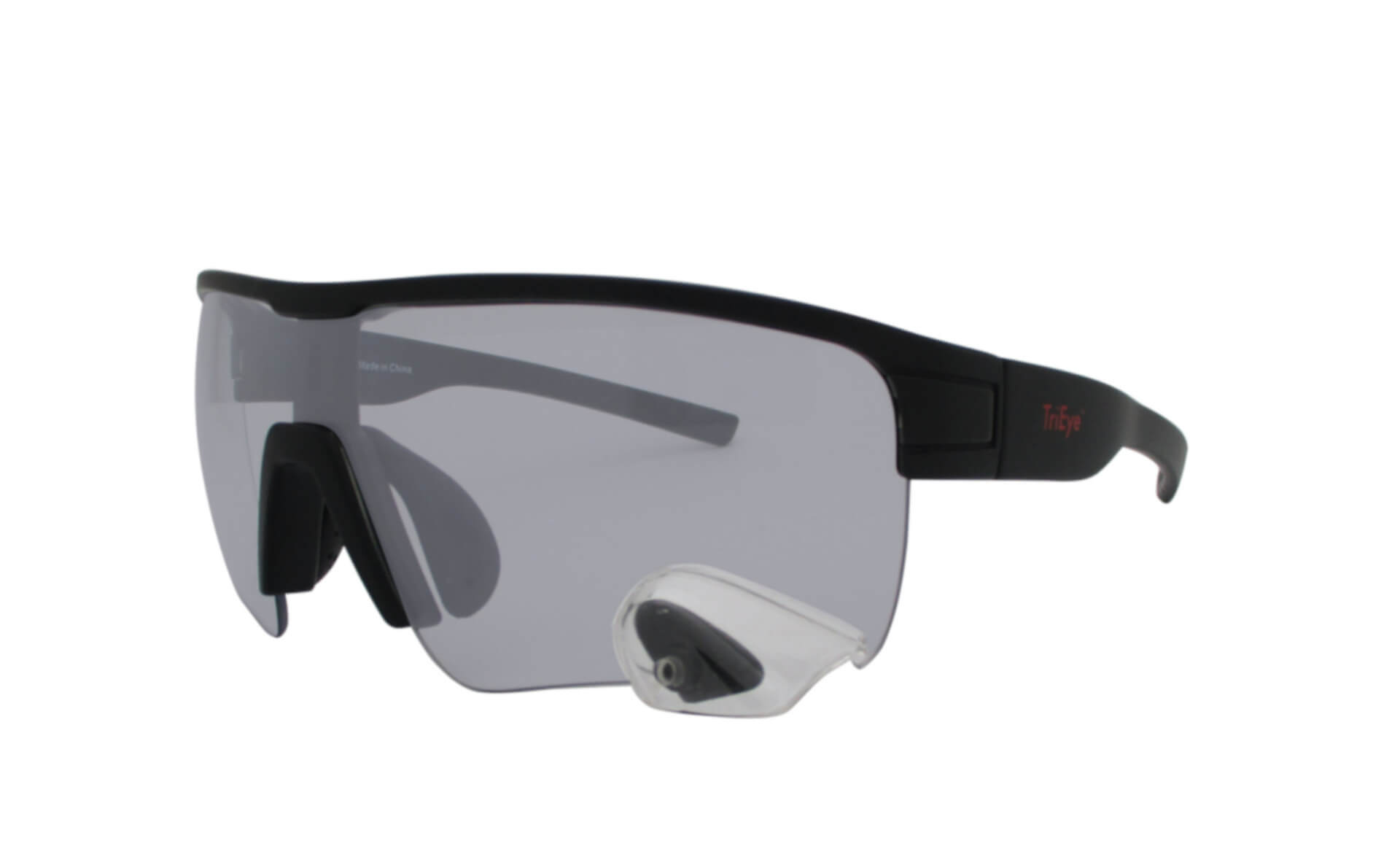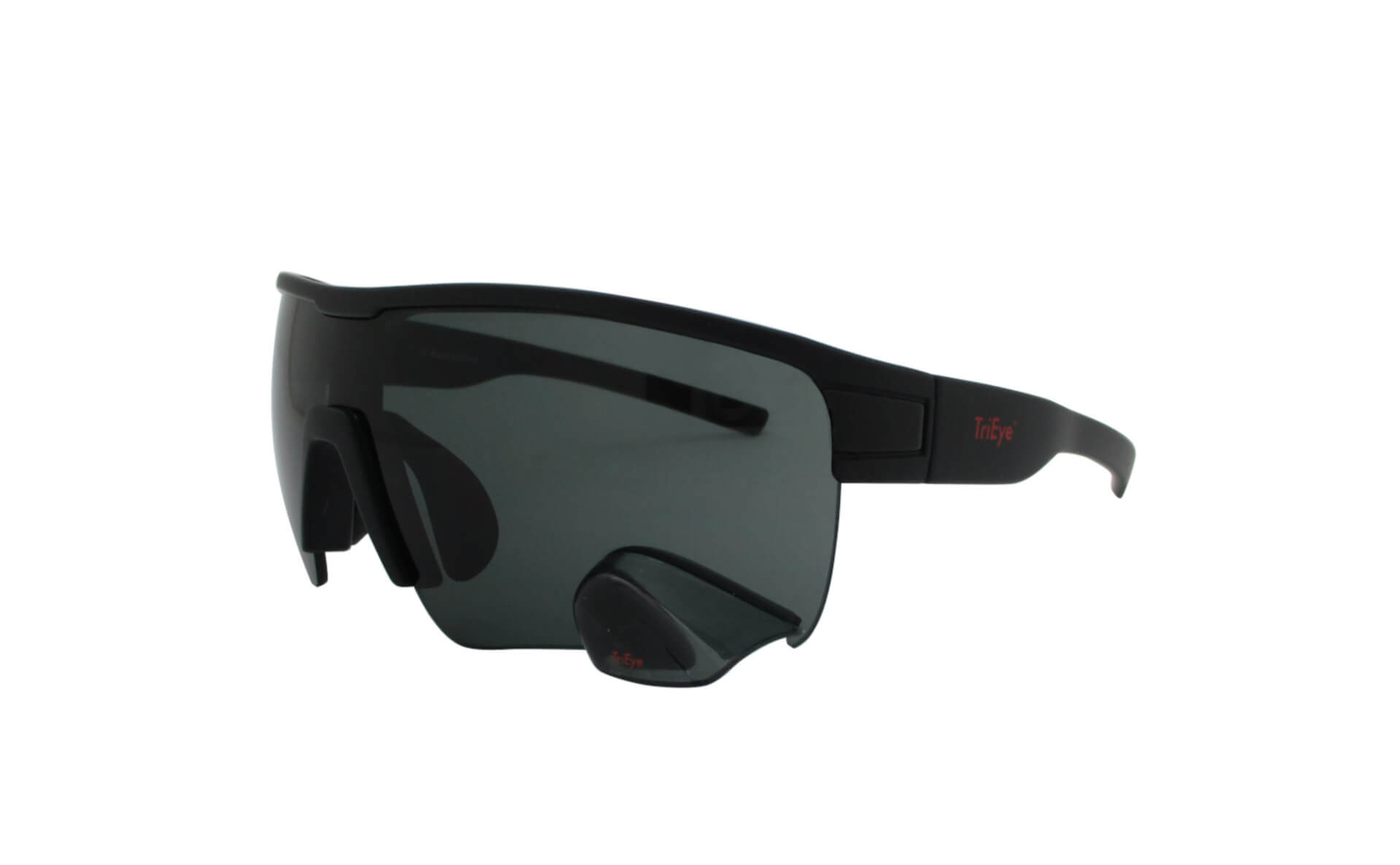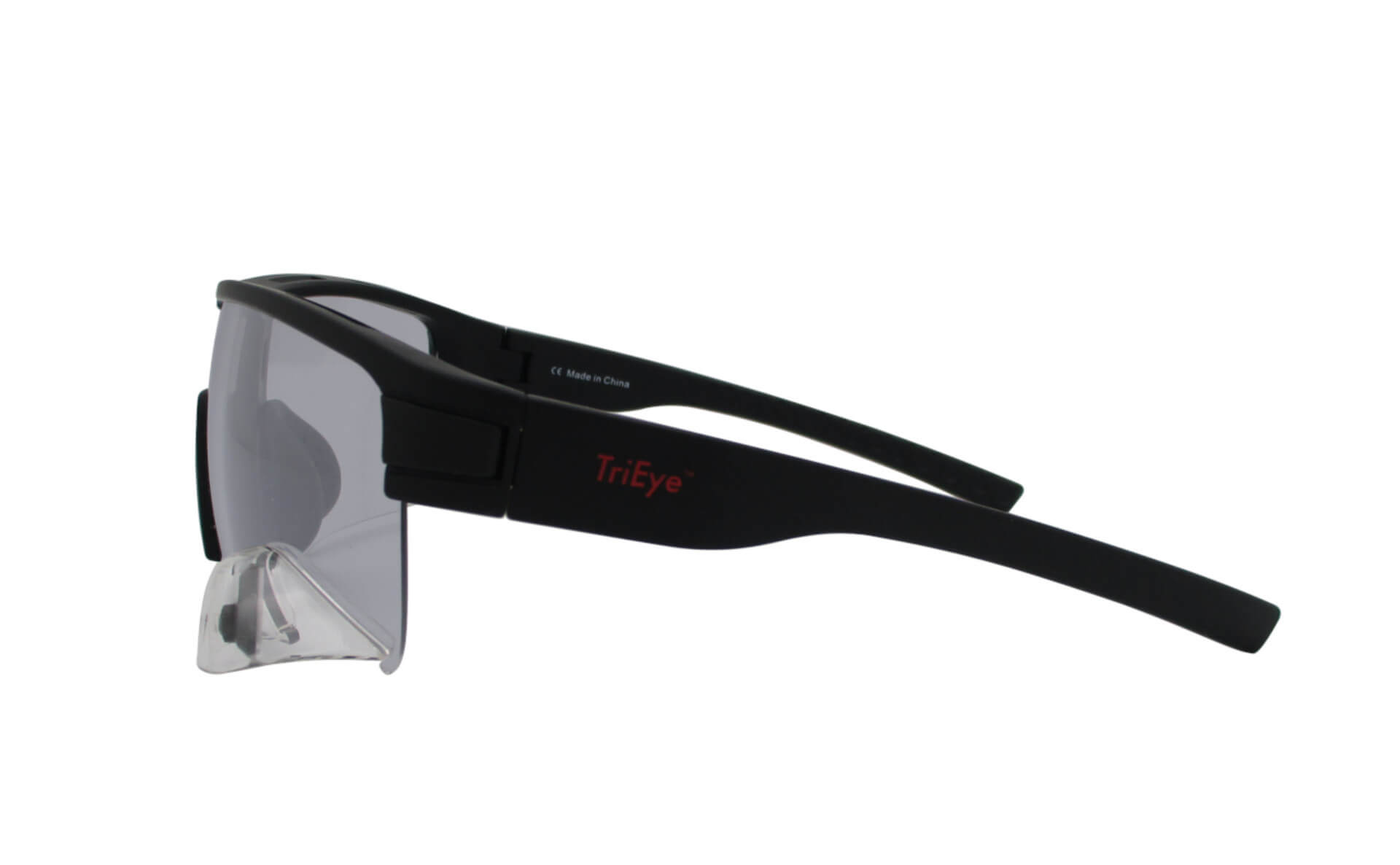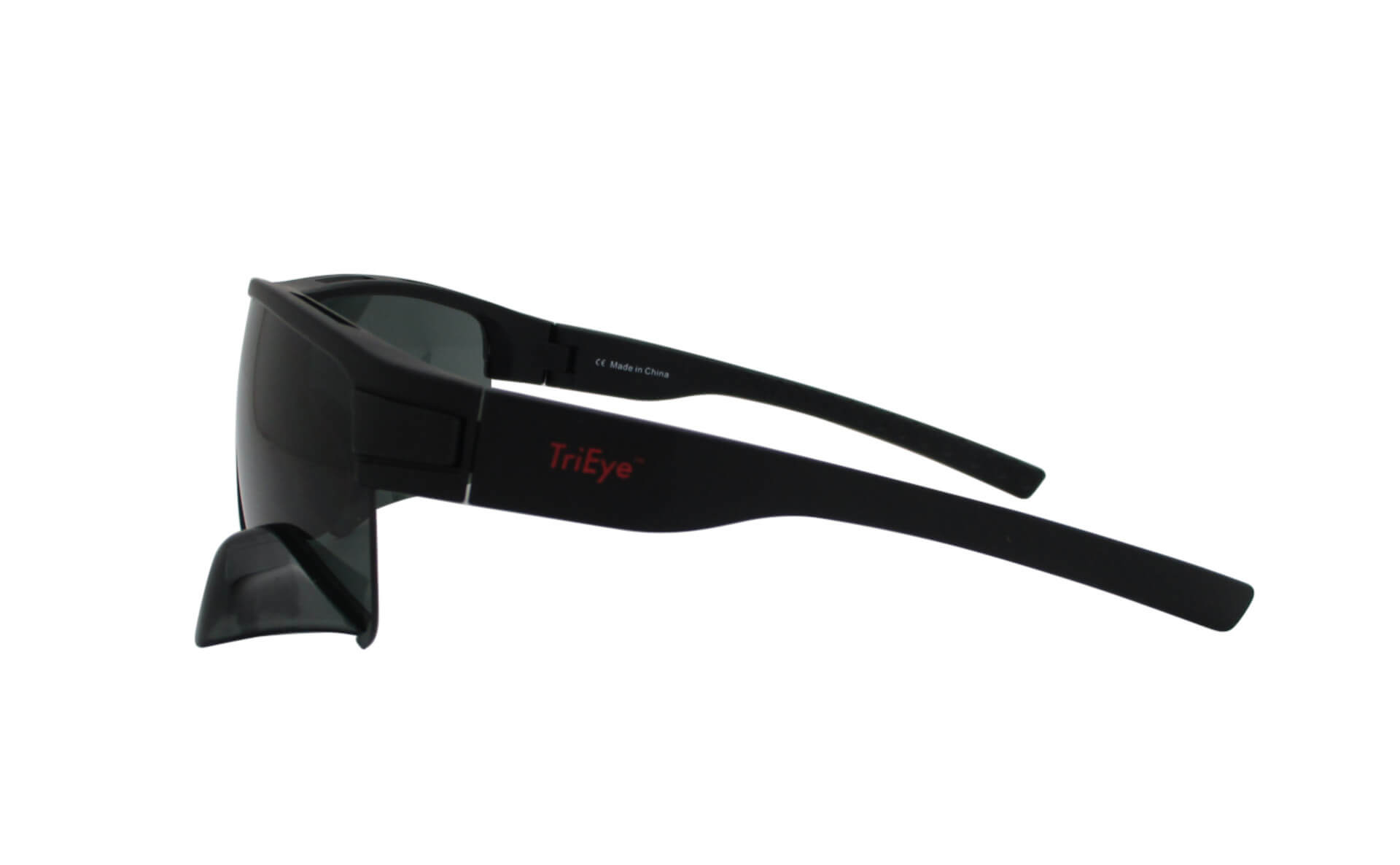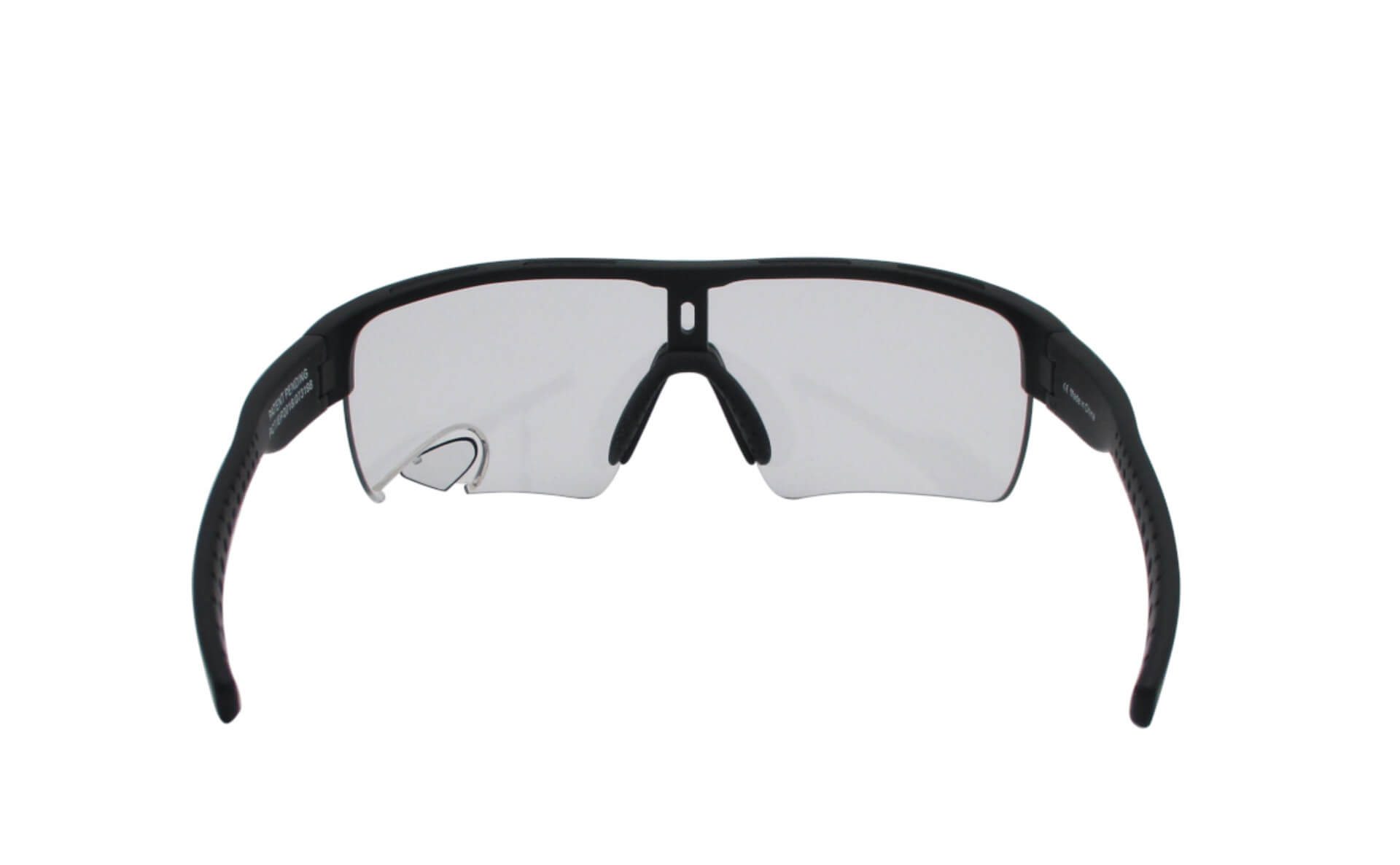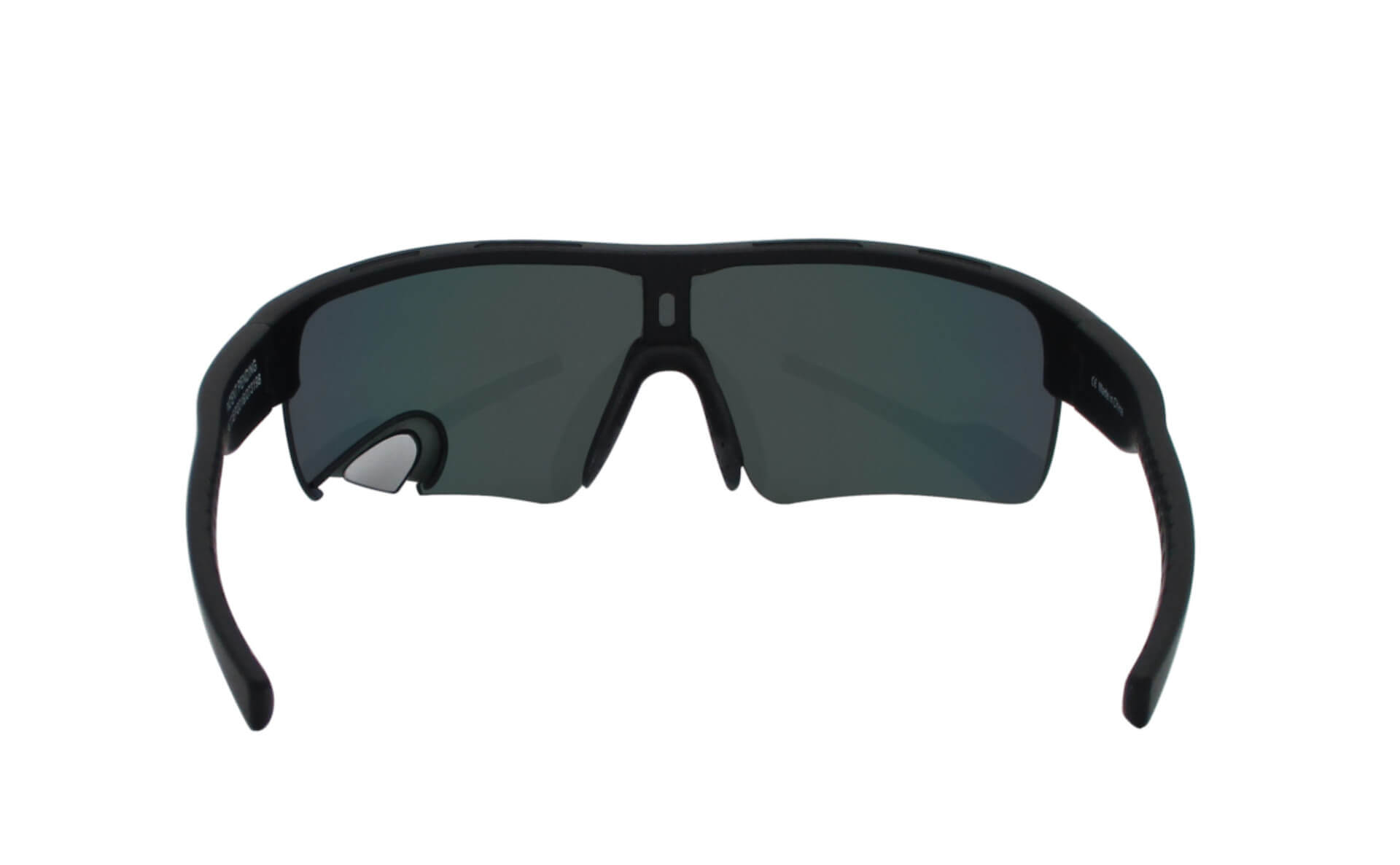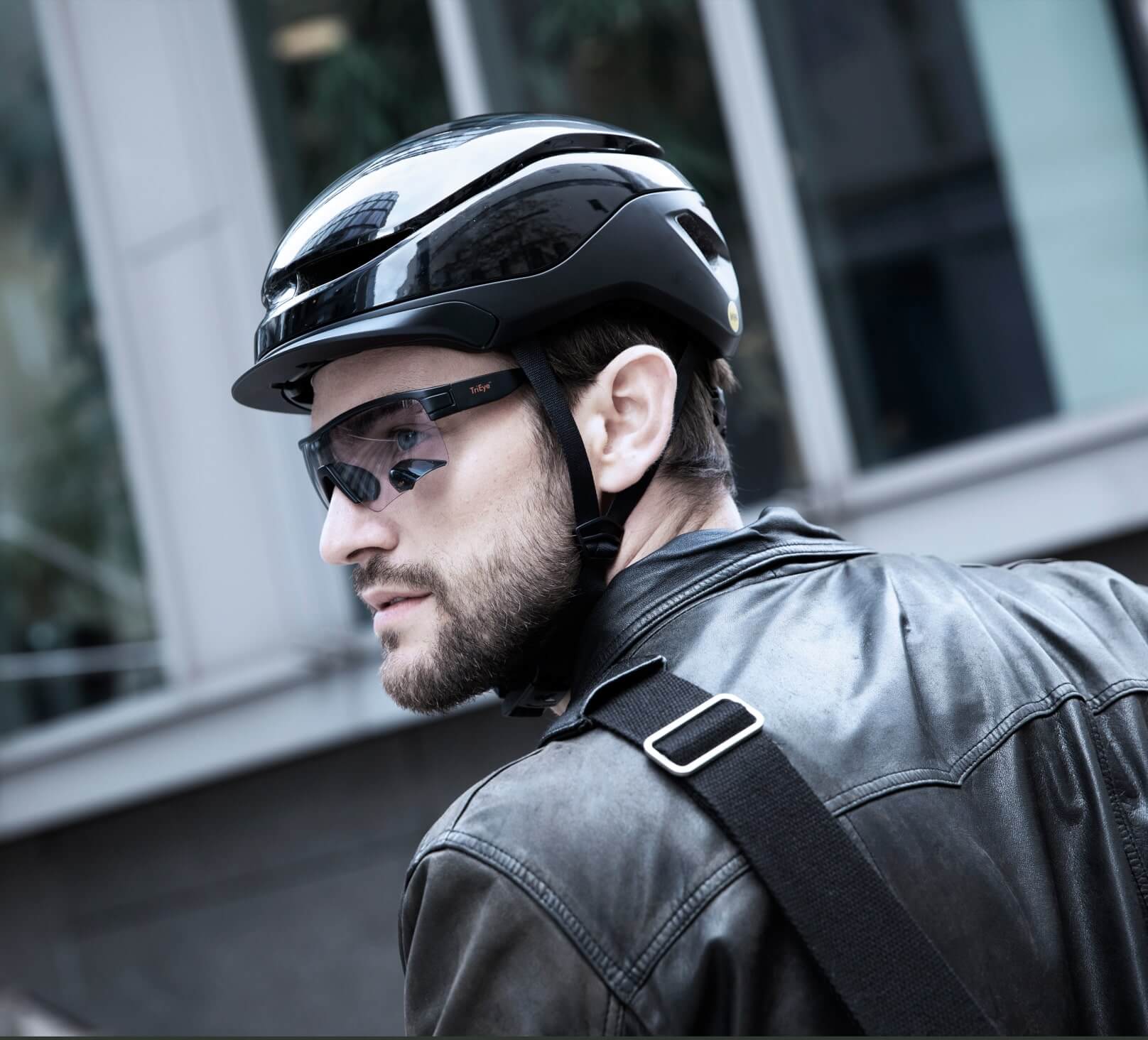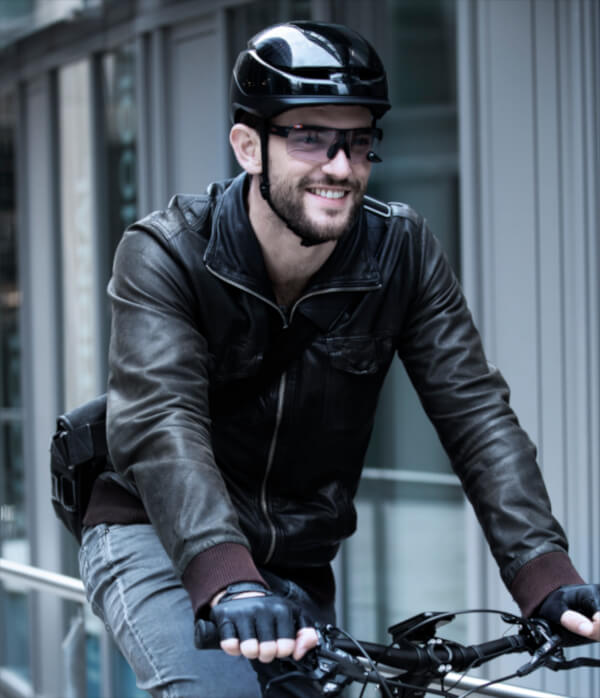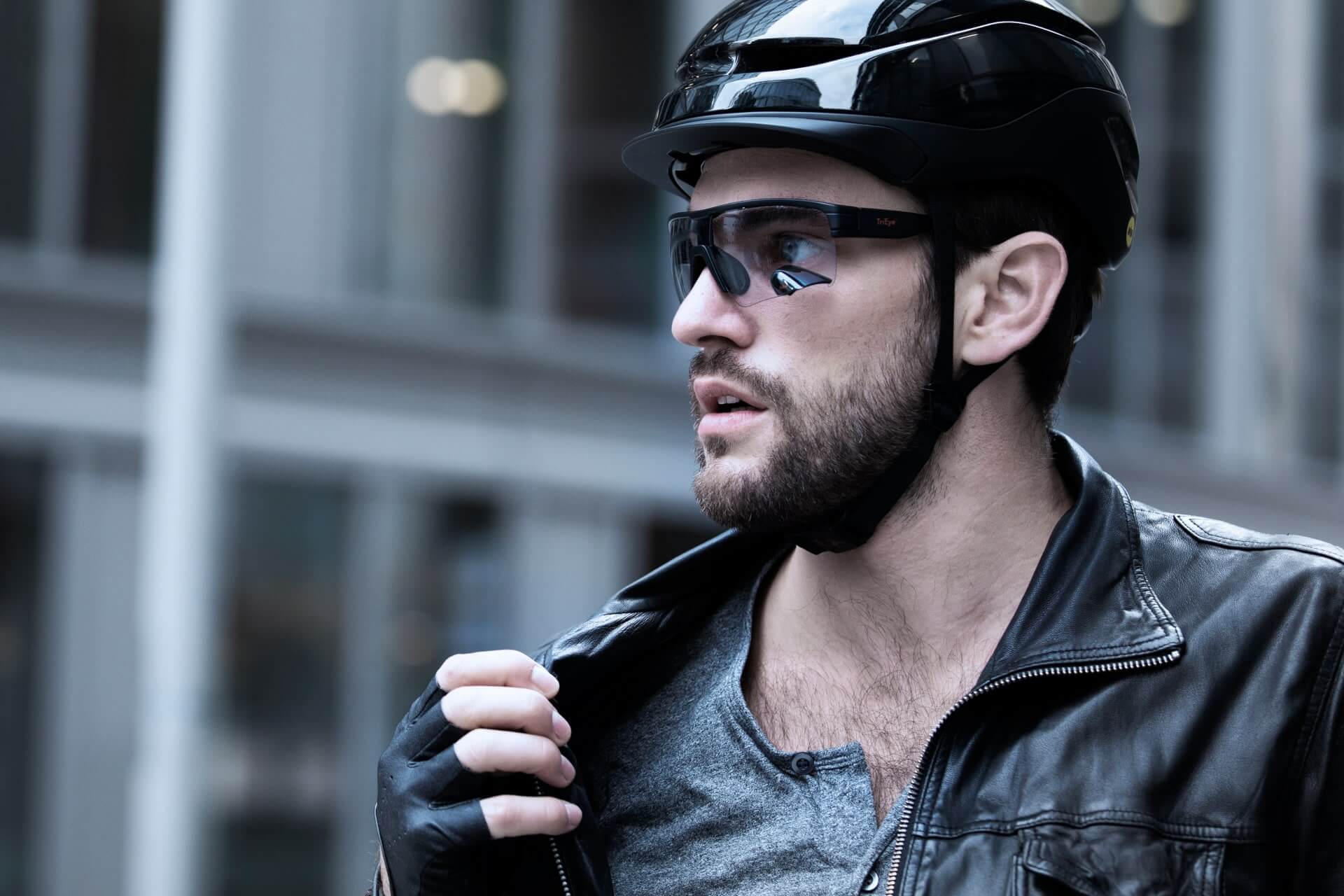 €59.95*
%
€109.95*
(45.48% saved)
Available, delivery time: 1-3 days
Product number:
77.0_SA7594
Product information "Trieye PRO photochromatic lens: black frame"
Sport Glasses with integrated Rearview Mirror
The photochromatic PRO model by TriEye™ is a further development of the innovative glasses with rear-view mirror. The photochromatic lens changes its colour, depending on the sunlight, from category 0 (clear) to category 2 (dark). Thus these TriEye™ glasses adjust automatically to light and weather conditions and you don't need separate exchangeable lenses. So TriEye™ is not only your companion in twilight and rain, but also your eye protection against the blinding sun and UV radiation.
TriEye™ in the City
Everyone wants to reach their destination as safe as possible. It is very important to assess the situation correctly in road traffic. TriEye™ is your loyal companion in the city, too. No matter whether you are on a bicycle or an e-scooter to pick up your sunday rolls from your favourite bakery: WITH TRI EYE™ YOU ARE ALWAYS ON THE SAFE SIDE!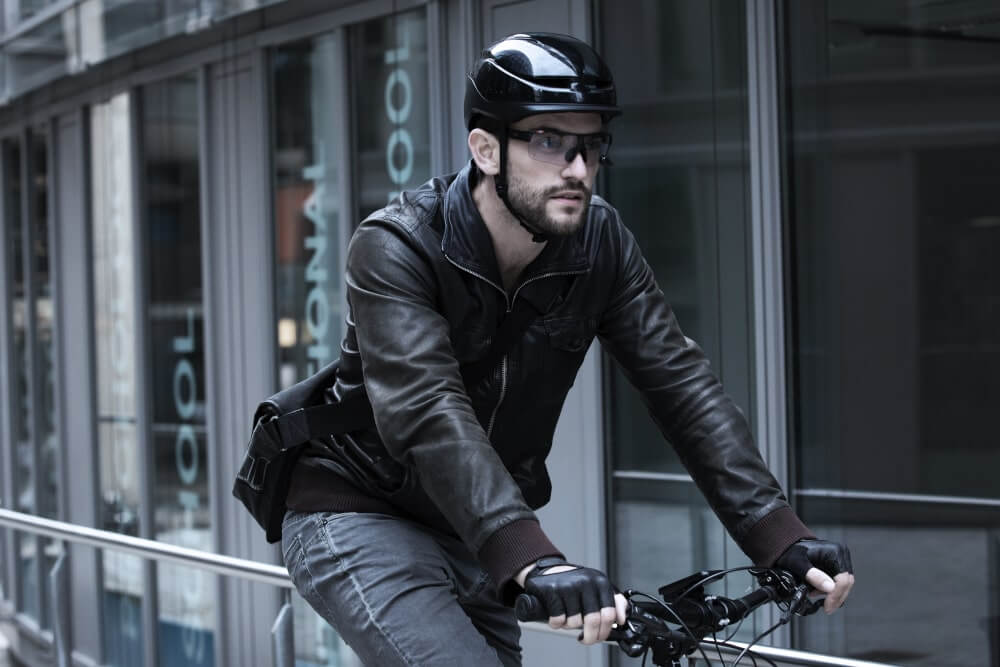 Tri Eye™ in Sport
The glasses are suitable for various sports and activities such as cycling, thriathlon, running, rowing and inline skating. They are also very helpful if you are on the road with a Segway, e-scooter or even a recumbent bicycle!
Our tip for ambitious athletes:
Training partners or competitors who are about to overtake you, will also make themselves noticeable in the rearview mirror. By seeing what is happening behind you, you create some important advantage points and can thus increase your athletic performance and personal safety.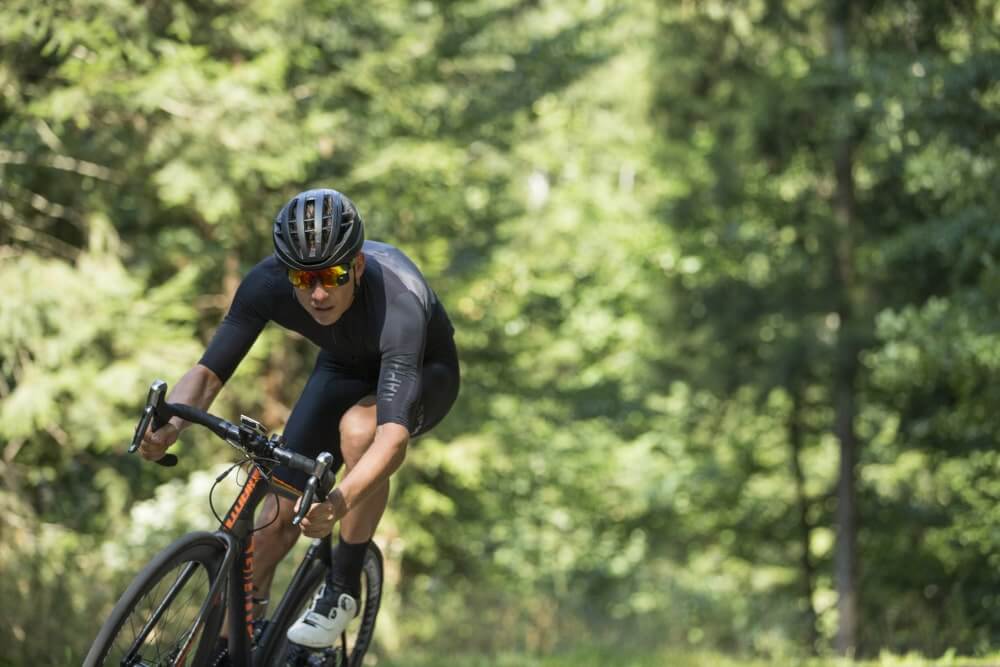 Correct use of TriEye™
TriEye™ works like your rearview mirror in the car and can be adjusted to your personal needs. The rear-view mirror is optimally adjusted, if you see part of your face in it. Please refrain from looking in the mirror permanently. Just take a quick look behind you to assess the traffic situation. Always remember to check the "Blind Spot" aswell.
Our tip for parents:
A bicycle trailer is very popular with parents and their children. Sometimes it not only provides fun but also worries: while you are driving, you cannot see what is happening to the trailer. TriEye™ offers a simple and effective problem solution: With these innovative glasses, you can get a better view of the trailer with just a slight movement of your head thus increasing the safety of your little passenger. Watch this video and let TriEye™ convince you!
Size Matters!
With TriEye™ you can choose between two mirror sizes: MAX for the large mirror and PRO for the smaller mirror. Which mirror size you choose, is very important. For beginners, we recommend the MAX mirror, so you can get used to TriEye™ faster and easier. PRO is the optimised size and looks much smoother, but with the smaller mirror its harder to see, so it is only recommended for advanced cyclists! You can find more information about the size of TriEye™ under: Instructions & FAQs.
The TriEye™ Features
The photochroatic MAX model of TriEye™ changes its colour depending on the sunlight, from category 0 (clear) to category 2 (dark). It is equipped with an integrated rear-view mirror and full UV400 protection. The can be changed by simply opening up the latches on both sides and pulling the lens out carefully. The mirror is fully adjustable for every face and is made from polycarbonate with an anti-fog coatingso you don't need to be afraid of accidentally dropping the glasses and breaking into small pieces. The frame is made of a durable plastic polymer, which combines low weight and enormous strength. The four frame vents ensure optimal airflow.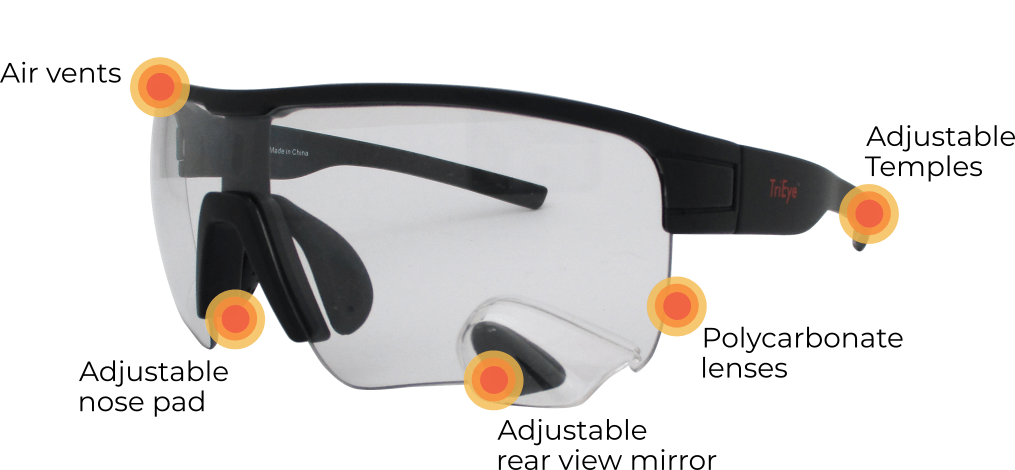 Awards
Within the ISPO Awards 2019 TriEye™ recieved the Gold Winner award in the Outdoor > Biking category. After the TAIPEI CYCLE d&i award 2018 and the Public's Choice of the Eurobike Start-Up Award 2018 this is already the third award for the sports glasses with the rearview mirror.

Technical Data
Weight:30g
UV Protection: UV400 (100% Protection with all glasses)
Frame material: Grilamid TR90
Lens material: Polykarbonat
Mirror material: Polykarbonat
Scope of delivery
Glasses with temples and photochromic lens
Spectacle case
Microfibre bag
Glasses cleaning cloth
CE Declaration of Conformity
The CE Declaration of Conformity can be downloaded here
Glare protection
| Filter category. | Usability/ Suitability | Anti-glare factor | |
| --- | --- | --- | --- |
| 0 | Suitable for light light protection | Light absorption up to 20% | TriEye |
| 1 | Suitable for overcast, cloudy weather conditions | Light absorption from 20 to 57% | TriEye |
| 2 | Suitable for the summer sun in our latitudes | Light absorption up to 82% | TriEye |
| 3 | Suitable for bright sunlight, e.g. midday sun, on the beach | Light absorption up to 92% | |
| 4 | Suitable for extremely high solar radiation, e.g. in high mountains, in the desert; Unsuitable for driving! | Light absorption up to 97% | |
---
Sehr gute Eigenschaften durch Spiegel
Jederzeit wieder meine alte Brille ist das Gummi am bûgel def. Liegt am Alter
Super Verarbeitung und nachhaltig, da Komponente austauschbar.
Super Verarbeitung und nachhaltig, da Komponente austauschbar. Auch viel leichter als erwartet. Kaum gewöhnungsbedürftig beim Fahren. Ganz im Gegenteil: man vermisst den Spiegel, wenn man die Brille nicht dabei hat! Nur wegen der (Über-)Größe wäre ein mitgeliefertes Etui ganz praktisch -- von mir gegen Aufpreis. Es wird m.E. nicht einfach sein, ein passendes Stück zu finden.
Am Anfang etwas gewöhnungsbedürftig. Qualität und Verarbeitung sehr gut. Preis akzeptabel.
Super brille Hervorragend zum Fahrrad fahren und auch für Elektroroller Durch die Selbsttönung ob man durch den Wald faehrt und auch durch Tunnel und wieder rauskommt keine Blend Effekte vier von fünf Sternen weil mir der Spiegel etwas zu klein ist es funktioniert aber.