Product information "Eagle Five"
Sports Reading Glasses Eagle Five
Eagle Five is a real problem solver and a quantum leap in the development of Eagle sports reading glasses - adaptable head shape - attractive and modern optics at an absolutely fair price. The Eagle Five is (cycling-) sports and reading glasses in one. It has a reading zone at the lower edge of the lenses for reading the navigation device, smartphone or your running watch and above it a neutral lens without correction. The head-enclosing shape guarantees perfect protectionz of your eyes against wind, dirt and insects. The bifocal Eagle sports reading glasses (with small reading zones) have been enthusiastically received by a large number of customers and have been presented very positively in various magazines. Many cyclists, runners, skiers, ski tourers, hikers, orienteers, sailors and other sportsmen can read their navigation device, smartphone,... without any problems again and do not have to change their glasses all the time. More than 10,000 customers therefore no longer want to do without the glasses, always have them with them and recommend them to friends, acquaintances and club colleagues.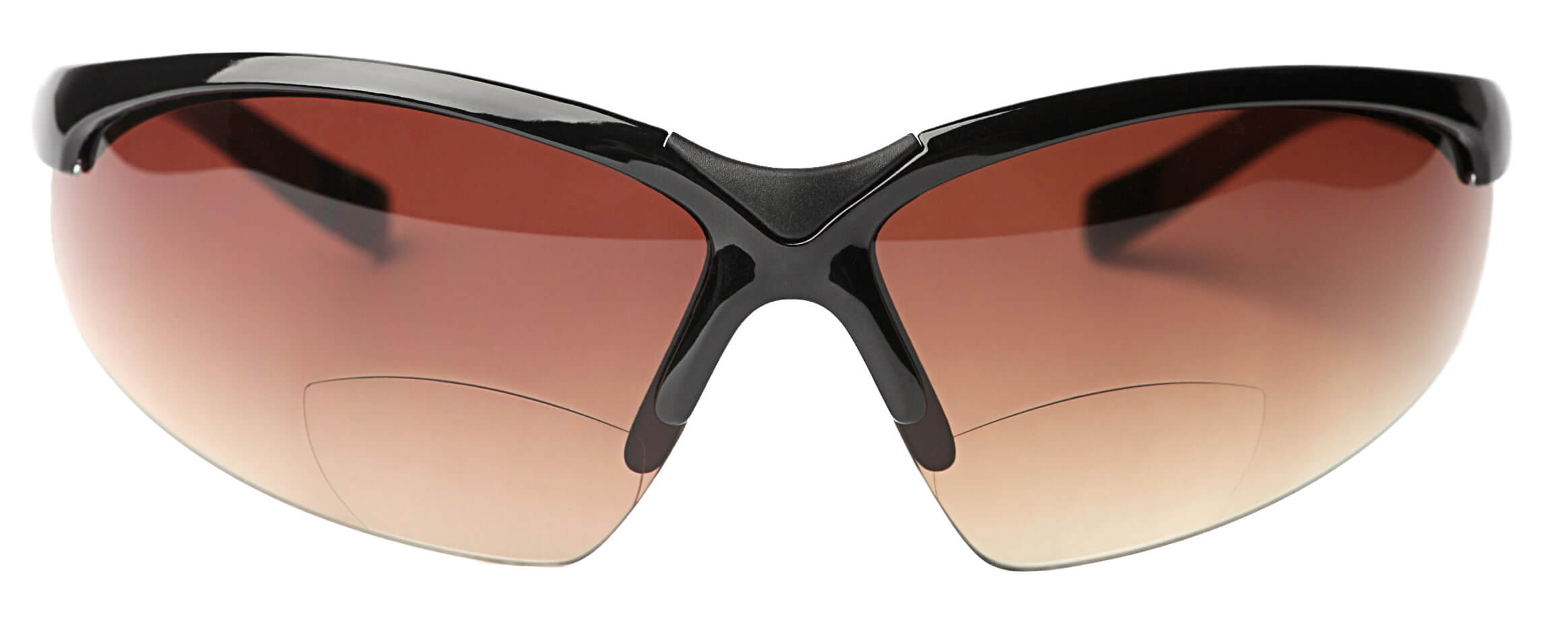 The most important features of Eagle Five
exactly fitting geometry of the frame (better fit of the glasses) and modern optic
optimal size and placement of the reading zone
exchangeable nose bridge in black, grey and orange (included)
extendable brackets for adaptation to any head shape and size
clip-on headband
How to find the right lens strength
The distance to your navigation device is usually larger than the distance to a book, so you should choose a lens strength that is about 0.5 dp lower than you usually do. If you have a dp of 2.5 you should take the galsses with 2.0 dp!
FAQs
The visual acuity measured by the optician refers to the typical distance to a book while reading. Since the navigation system or map are usually further away during sports than a book during reading, a visual acuity of about 0.5 Dp (diopters) lower can be selected. In practice, this means that instead of + 2.5 Dp (normal reading glasses), you only need +2.0 Dp.

Die Brille wurde schon von zahlreichen Kunden begeistert angenommen und sehr positiv Bewertet. Du kannst sie bei vielen verschiedenen Aktivitäten nutzen, z.B:
Radfahren
Skifahren
Laufen
Wandern
Segeln
Viele weitere Sportarten
Bifocal glasses have lenses that have two different cuts. With them you can have both a correction in the distance and a reading zone. Thus, one pair of glasses fulfills two functions, similar to varifocals, but much simpler and therefore also associated with a shorter acclimatization period.
In the view of the glasses you can see that the temples of the Eagle Five fit tightly behind the head, ensuring an optimal and stable fit of the glasses. Since each person has a different head shape and size, the length of the temples can be changed. This ensures a stable fit of the glasses for each person.The picture also shows that the lenses of the glasses are strongly curved.

Therefore, they enclose the head and optimally protect against wind, dirt and insects.
Yes, the lenses offer UV400 protection. This means that UV radiation below 400 nm (UV-A and UV-B) is filtered 100%.
Numerous tests have been carried out to determine the size and height of the reading zone. Our experience is that almost all customers are satisfied with the glasses after a short period of acclimatization (a few minutes to a few hours max.). In the beginning, the reading zone is perceived consciously or possibly as somewhat disturbing. However, the eyes and brain get used to the reading zone very quickly. After that, it is no longer consciously perceived. Getting used to the Eagle Five (bifocal) is generally much faster and easier compared to varifocals.
Even though the lenses are
scratch-resistant
, this still means that you should
handle them with care
.
For example, they should always be stored separately from each other in the pockets of the case. Dust and other dirt should first be removed under water (possibly with a little washing-up liquid or window spray) and then the panes should be rubbed dry with a microfiber cloth (available in the Eagle bag) or any other soft and clean cloth.
No, they are pure sports reading glasses.
The lenses have no correction above the reading zones (neutral). They are purely bifocal glasses and not varifocal glasses.

Getting used to bifocal glasses is considerably easier than getting used to progressive glasses. Many customers have the problem of not being able to read the navigation system but do not need a larger correction in the distance (negative diopters). Here the Eagle Five is perfectly suitable.
If you also need a larger correction for distance, only a custom-made varifocal glasses at the optician or contact lenses can solve your problem.
Brown: for bright summer days very pleasant brown tint. The brown lenses have a color gradient / tint gradient. This means that the lenses are tinted lower down, navigation device or smartphone can be read better, while their eyes are protected from the sun's rays.
Yellow
: contrast enhancing for bad /diesig or foggy weather provides good mood, because better weather is "implied", green hues (meadows, trees) are enhanced and appear "richer".
Clear
: only protection of the eyes from driving wind, UV radiation and insects.
To change the lens:
Take glasses with temples away from you in your left hand.
Press your thumb on the bridge of your nose and hold the glasses.
Grasp the bottom of the left lens (the right lens as seen from you) and pull it out to the right at an angle.
Note: The frame will be slightly bent up at the top during this process, but it is flexible and will withstand a slight bend.
The lenses of the Eagle Five are made of extremely robust polycarbonate, which is optically transparent and also shatterproof and largely scratch-resistant. Since there is no such thing as 100% scratch-resistant lenses, they should still be cleaned carefully and handled with care. The frames are also made of highly break-resistant polycarbonate.