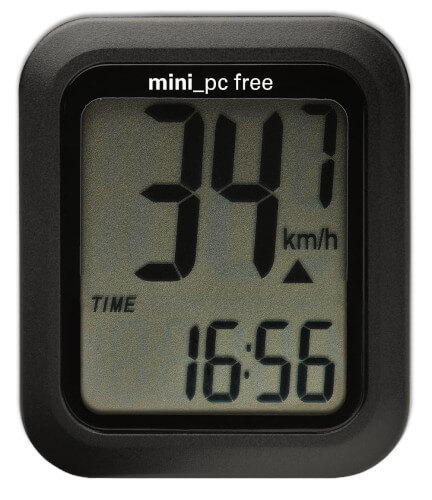 mini_pc free
The Small and Uncomplicated Bike Computer The mini_pc free is the perfect bike computer for beginners who prefers easy operation and uncomplicated installation without annoying cables. All functions of the mini_pc free are operated with a single switch (the entire computer serves as a click surface). In addition to speed, these include the time, trip riding time, trip distance and total distance, average speed and maximum speed as well as the comparison between current and average speed. The compact and stylish mini_pc free is suitable for use on any bicycle. It is very popular especially among city bikers. If required, the bicycle computer can also be set using the mini_pc setting tool accessory via the home PC. The inserted, standard CR2032 battery can be replaced without any problems.The holder can be mounted either on the handlebars or stem, depending on your preferences and circumstances. Technical Data Specifications Battery: CR2032 (run-time >300h) Size: 38x33x13 mm Weight: 17g incl. battery Color: black Package content mini_pc free incl. CR2032 battery Holder Speed Sensor macro 2s free speed Mounting material Manual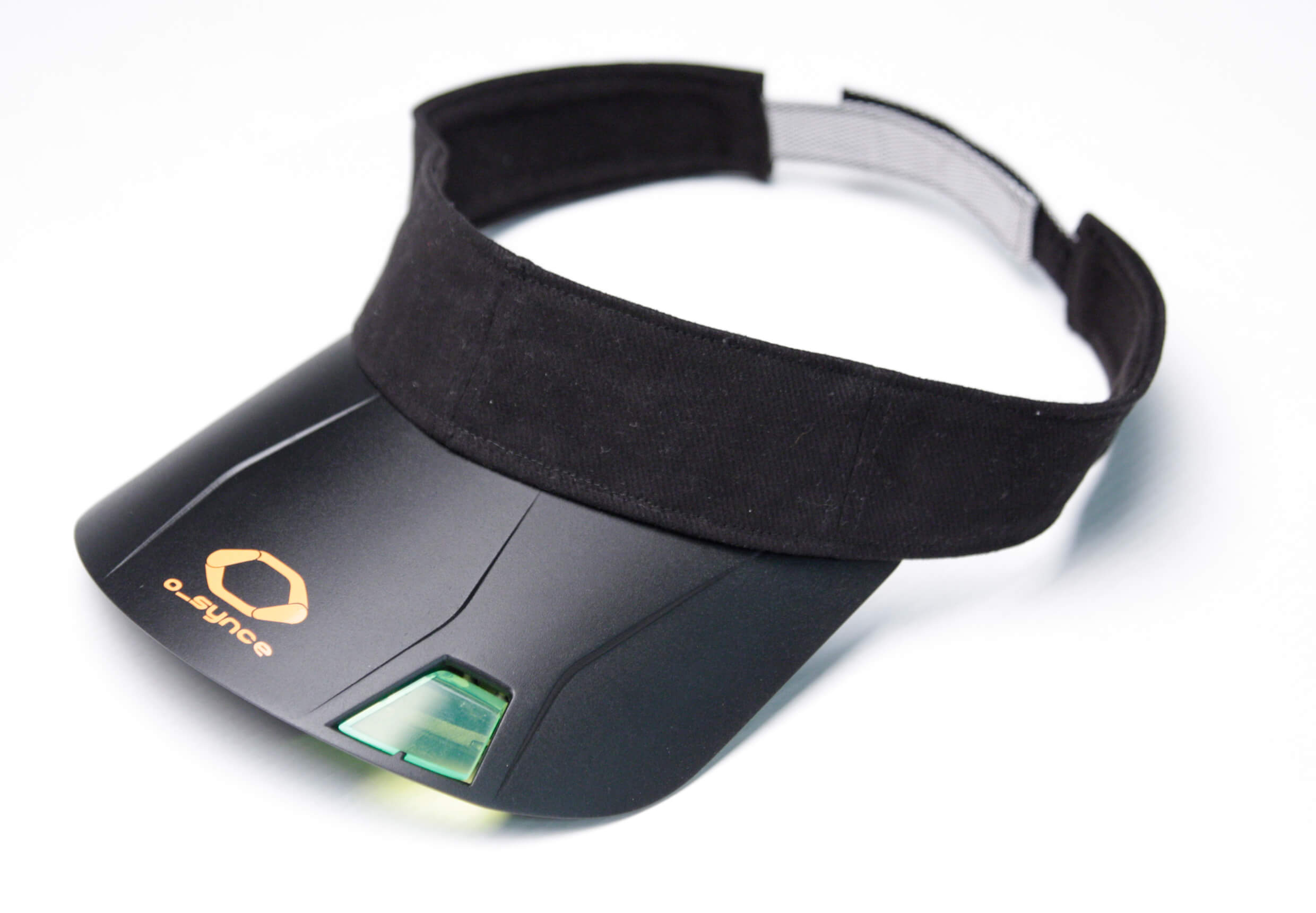 screeneye x | Running Cap with Heads-Up Display
With this sports visor screeneye x the training is even more fun. The innovative head-up display allows to display the training data directly into the user's field of vision.Using any ANT+ sensor the screeeneye x displays all training data such as heart rate, speed, distance, stop times, lap times, training zones and coaching tips. The display is illuminated by way of a light collection film integrated in the visor, which makes the numbers easy to read even in poor lighting conditions. Any commercially available ANT+ sensor or the original accessories from o-synce may be connected with the screeneye x to measure heart rate, distance and speed. All training data can be exported to the PC via Micro USB connection. data4vision concept data4vision is the innovative concept for the visualization of training data. The ultra-light computer and head-up display are placed inside the sports visor, which allows a continuous control and analysis of your training. Training with heart rate The adjustable heart frequency zone which is shown by a visual indicator, allows a continuous control of your heart rate. Always have an eye on your workout and stay in the ideal training range. Run differently Together with optional maxrun speed sensor you can measure your speed and distance precisely. The trainer in your vision The trainer function will allow you to set up flexible training programs in advance to your training. Just download your preset workout and let the screeneye x guide you through your training. Analyzing with PC Via Micro USB and traininglab software you can easily document your training data, analyse your progress or simply have a look at some interesting statistics. Why not compare your current workout with previous training sessions or have a look how the weather influences your performance? The traininglab doesn't cost you anything but is an exciting tool for analysis and further improvement of your strength and endurance. If you are a POLAR user, the POLAR plugin gives you the possibility to transfer your training data from the POLAR software or carry on using your POLAR products with traininglab. Train like a pro with Trainingsplan.com Trainingsplan.com provides the possibility to create training schedules which adapt to your needs. If you are ill or have no time for your workout, the schedule will be calculated anew. Many details in your life may influence your training schedule. With an accommodating schedule you will always make the best out of your workout.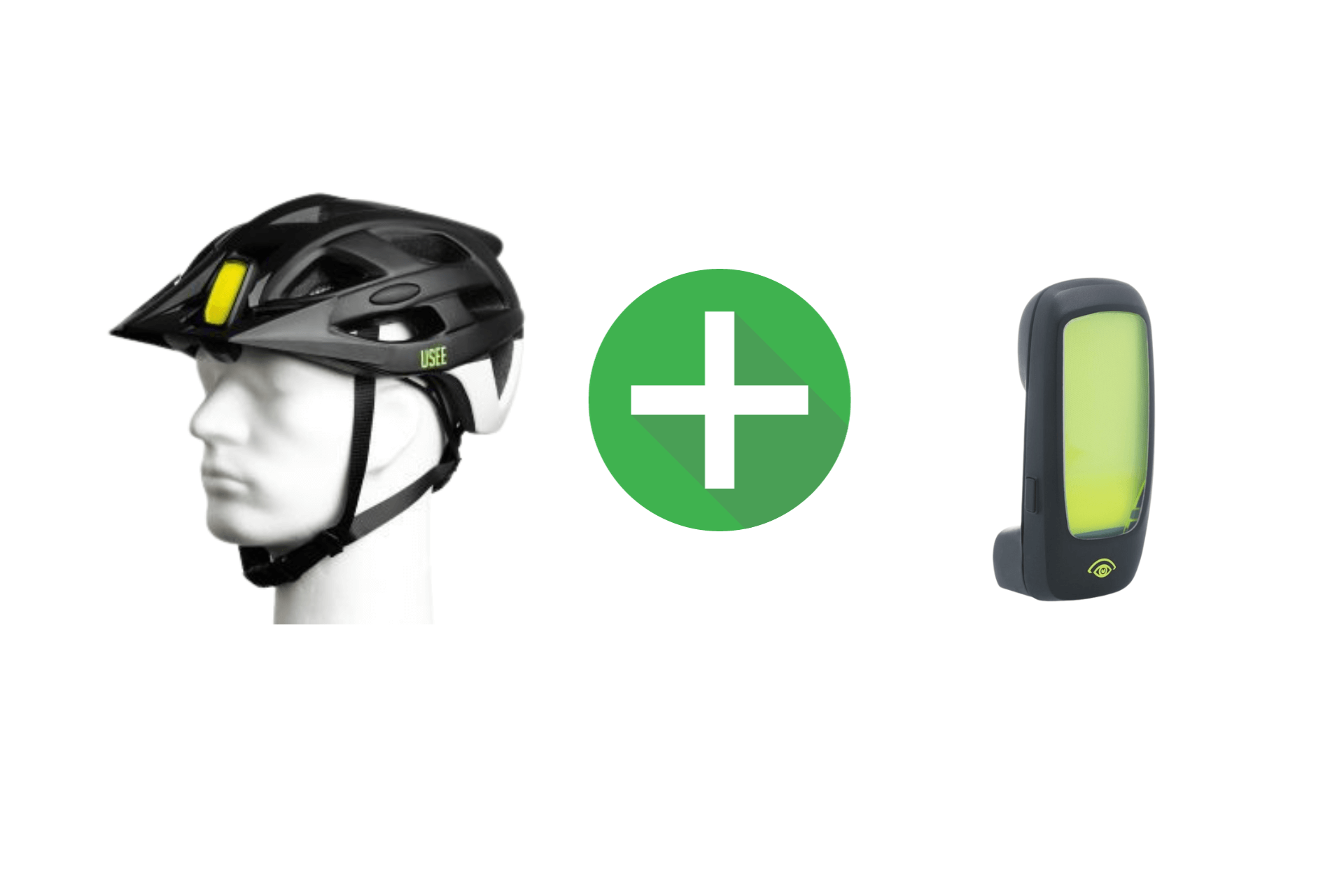 o_synce Guard Fahrradhelm (Größe: S/M (54-58 cm))
Bundles:
o_synce Guard Fahrradhelm + USEE Head-Up-Display
| Color:
Warngelb
Entdecke die Zukunft des Radfahrens mit dem o_synce Guard Fahrradhelm! Tauche ein in die Welt des innovativen Radfahrens mit dem o_synce Guard, dem weltweit ersten Fahrradhelm mit integriertem Head-Up-Display. Dieses dynamische Duo bietet nicht nur einen erstklassigen Kopfschutz, sondern auch eine revolutionäre Möglichkeit, deine Fahrt zu optimieren. Eigenschaften: In-Mold-Fertigungsverfahren: Stoßabsorbierender Hartschaum und schlagfeste Polycarbonat-Außenschale sind untrennbar miteinander verbunden. Genickschutz: Das heruntergezogene Heckteil bietet zusätzlichen Schutz bei Stürzen Air-Flow-Design: 11 Einlass- und 8 Auslassöffnungen sorgen für eine optimale Klimatisierung, damit du immer einen kühlen Kopf bewahrst. Passform: Fein justierbares System für einen bequemen Sitz ohne Druckstellen. 3D-Halterung für USEE Head-Up-Display: Anpassung in Weite und Winkel für maximalen Tragekomfort. Insektenschutz: Das waschbare, antibakterielle Innenpad mit Fliegengitter hält unerwünschte Gäste fern. Schirm für Head-Up-Display: Schützt das Head-Up-Display, dient als Sonnenblende und optimiert die Sichtverhältnisse für höheren Kontrast und schnelleren Fokus. Winkelverstellung: Der Helmwinkel ist in 3 Stufen verstellbar. Easy-Click-Verschluss: Schnell und einfach zu verschließen Produktdetails: Farben: Warngelb und Samtschwarz Größen: S/M (54-58 cm) und L (59-64 cm) Gewicht: 255 - 285 g Bundles: 179,95 € für o_synce Guard Fahrradhelm + USEE Head-Up-Display 209,95 € für o_synce Guard Fahrradhelm + USEE Head-Up-Display + ANT+ Remote 289,95 € für o_synce Guard Fahrradhelm + USEE Head-Up-Display + 1 x Airmax Smart Bike Sensor von Schwalbe 379,95 € für o_synce Guard Fahrradhelm + USEE Head-Up-Display + 2 x Airmax Smart Bike Sensor von Schwalbe + ANT+ Remote Wichtig: Die Airmax Smart Bike Sensoren sind exklusiv und nur im Bundle erhältlich, nicht separat.
»The product works great and is very intuitive. Finally I can use Blevo easily with just one finger. The only aspect to evaluate is the somewhat deli...«
»Ich habe mir die Fernbedienung für mein neues Gravel Bike mit Mahle x35 Motor gekauft. Montage der Fernbedienung sowie die Verbindung mit dem Fahrrad ...«
»Klappt gut mit der automatischen Tönung. ich bin zufrieden«
»Habe die Brille jetzt 3 Monate in Benutzung und bin sehr zufrieden. Für den schnellen Schulterblick gut geeignet. Ersetzt aber nicht den sorgfältigen ...«
»Die Qualität der Brille ist sehr gut. Der Spiegel funktioniert gut, aber man muss sich erst dran gewöhnen. Die leichte gelbe Tönung ermöglicht auch fa...«
»Habe die Remote fürs Fahrrad meiner Frau gekauft, damit sie nicht immer die Hand vom Lenkrad nehmen muss um am Ober-Roh die Unterstützung zu ändern. ...«
»Prima Halt und guter Sitz und Made in Europe (Italy)«
»Prima Halt und guter Sitz«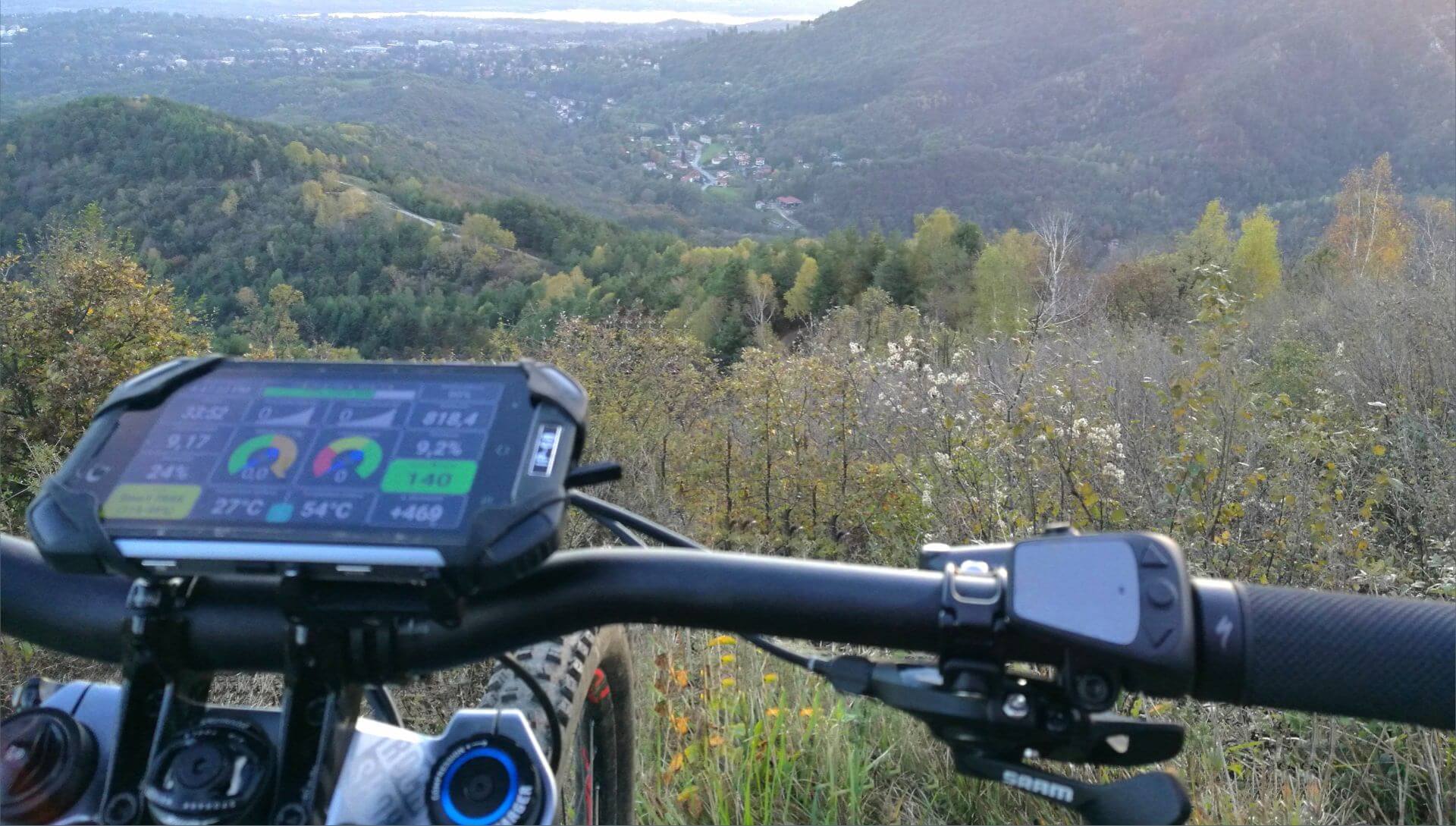 DIE FERNBEDIENUNG
FÜR DIE BLEVO APP
Die multiremote ist eine echte Hilfe für alle, die die BLEvo App nutzen. Die BLEvo App verwandelt dein Turbo Levo oder Turbo Kenevo von Specialized in ein smartes E-Bike! Allerdings kann die Bedienung des Touchscreens, besonders auf holprigen oder schwierigen Wegen, herausfordernd sein. Die multiremote montierst du am Lenker deines E-Bikes und kannst so die Funktionen der BLEvo App bequem steuern, ohne auf den Touchscreen zugreifen zu müssen. Du kannst die Dispayansicht verändern, in die Karte hereinzoomen, die Unterstützungsstufen ändern und vieles mehr!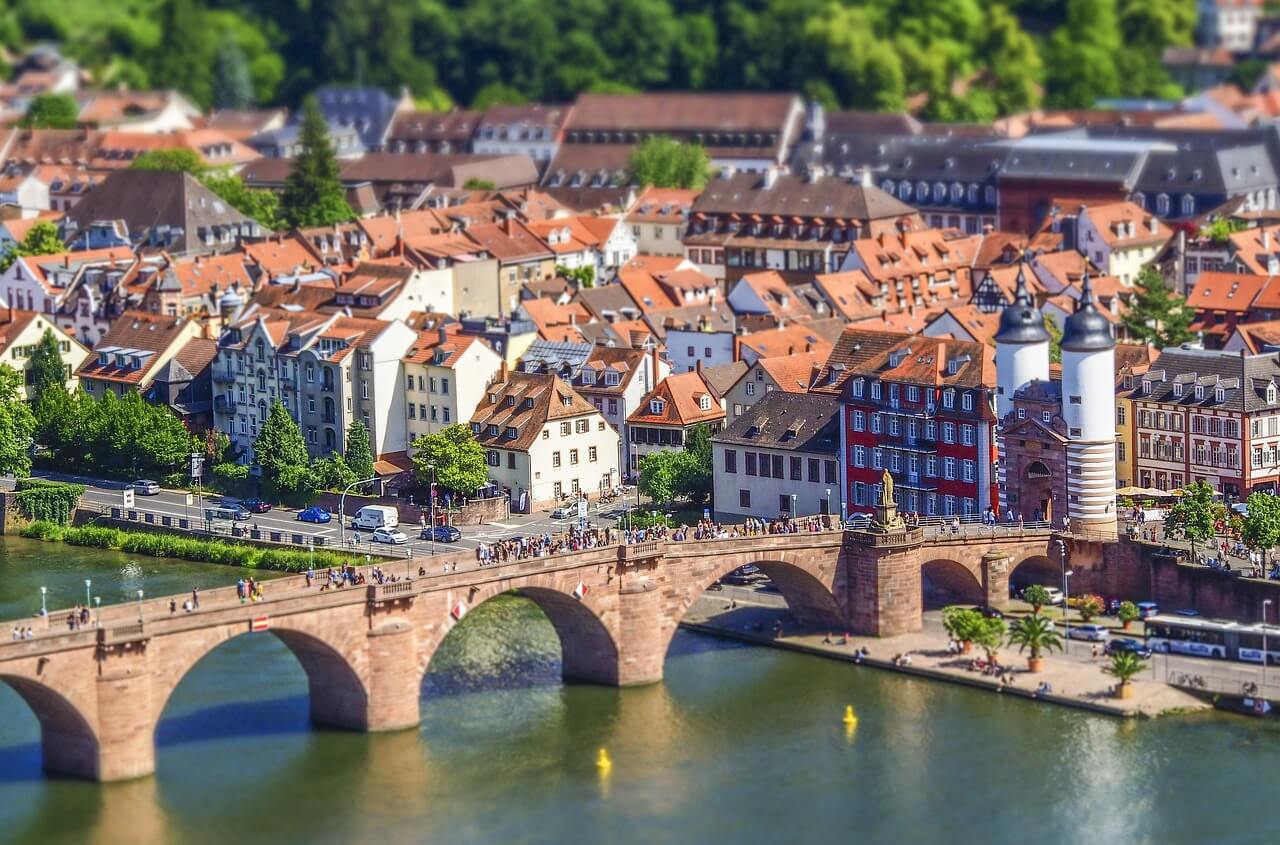 Innovative Bike Accessories
We are a small company from Heidelberg that specialises in the development of electronics for bicycles and e-bikes. Our vehicle park consists of racing bikes, MTBs, E-bikes and city bikes, because cycling is our common passion. With a lot of heart and soul, we also create our products, which are characterised by simple handling, enormous expandability and a high degree of innovation. Thanks to ANT+ and Bluetooth integration, our bike electronics "communicate" with various sensors, apps and e-bikes.In addition to our own o-synce brand, we offer other future-oriented products in our online shop that make cycling even more fun, easier and safer...


Newsletter Anmeldung - 10% RABATT

Zum Newsletter anmelden und 10% RABATT auf die nächste Bestellung erhalten. Bleibe immer informiert über neue Produkte, Angebote und vieles mehr!

FREE SHIPPING
From 99€ we deliver free of charge within Germany
COMPETENT SUPPORT
We are happy to advise you and help you with technical difficulties
14 DAYS RETURN POLICY
You can return your order to us within 14 days.