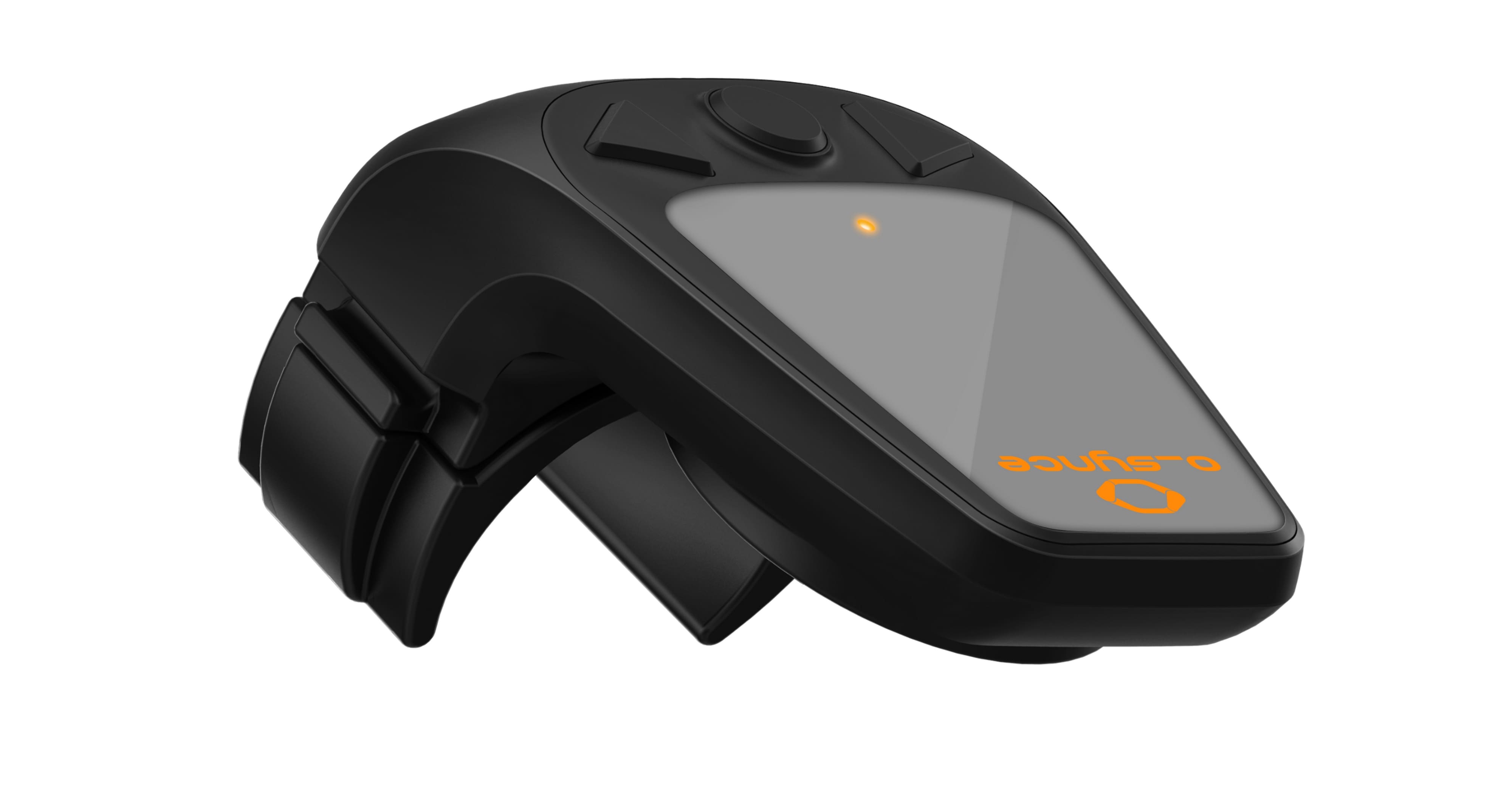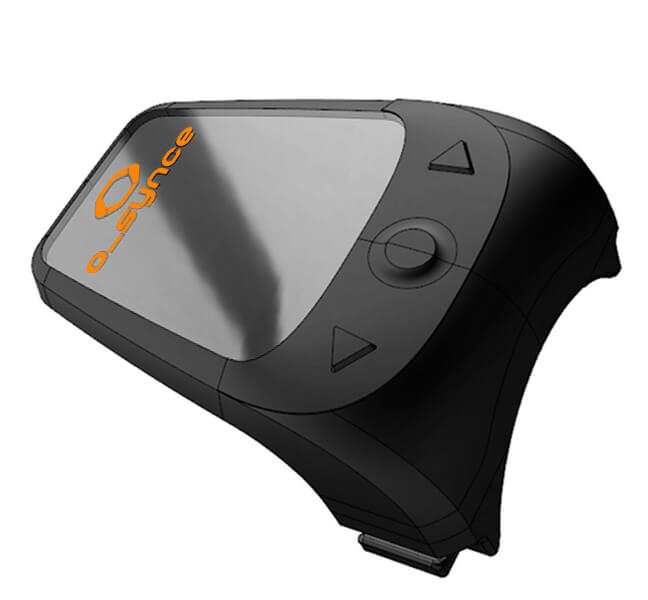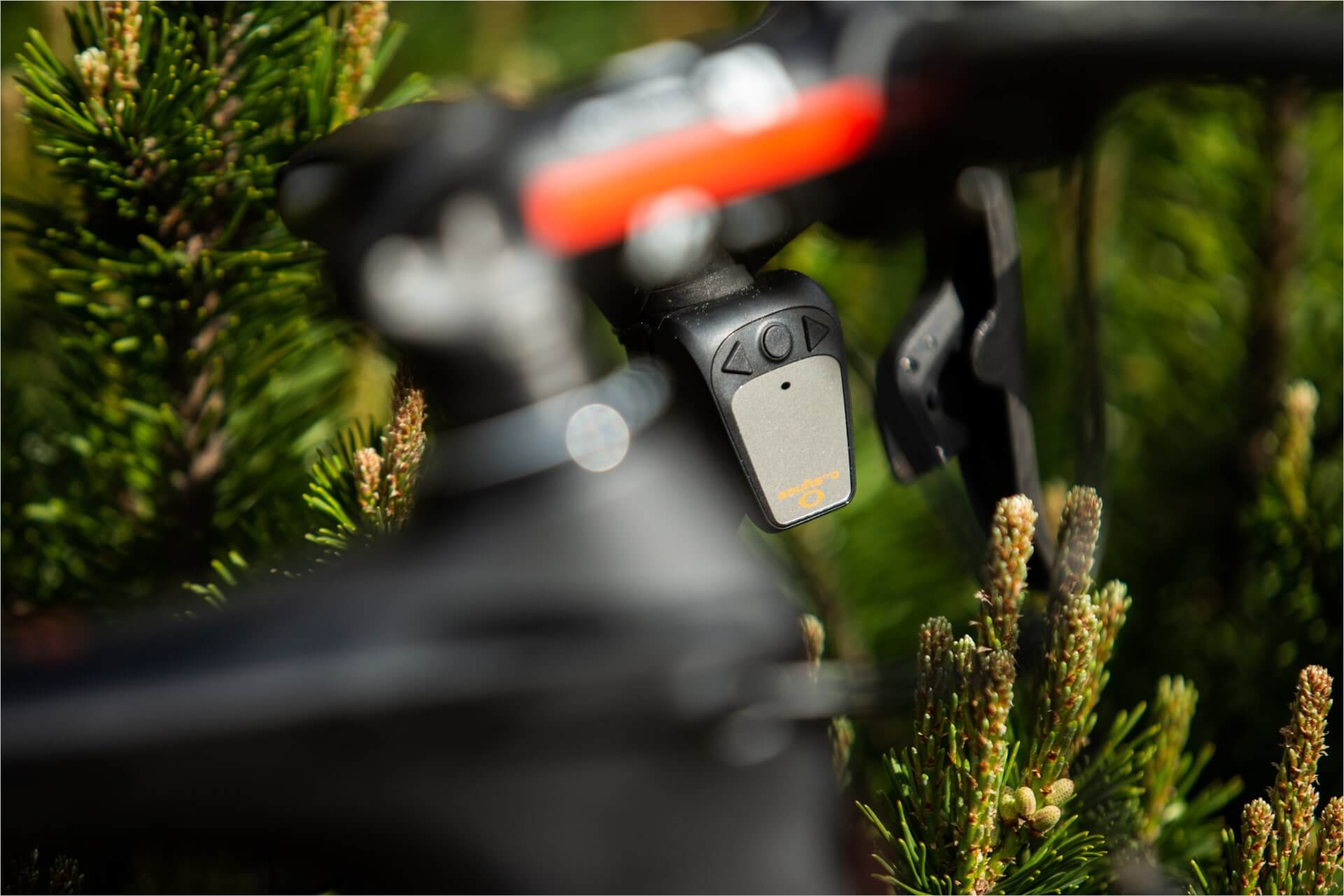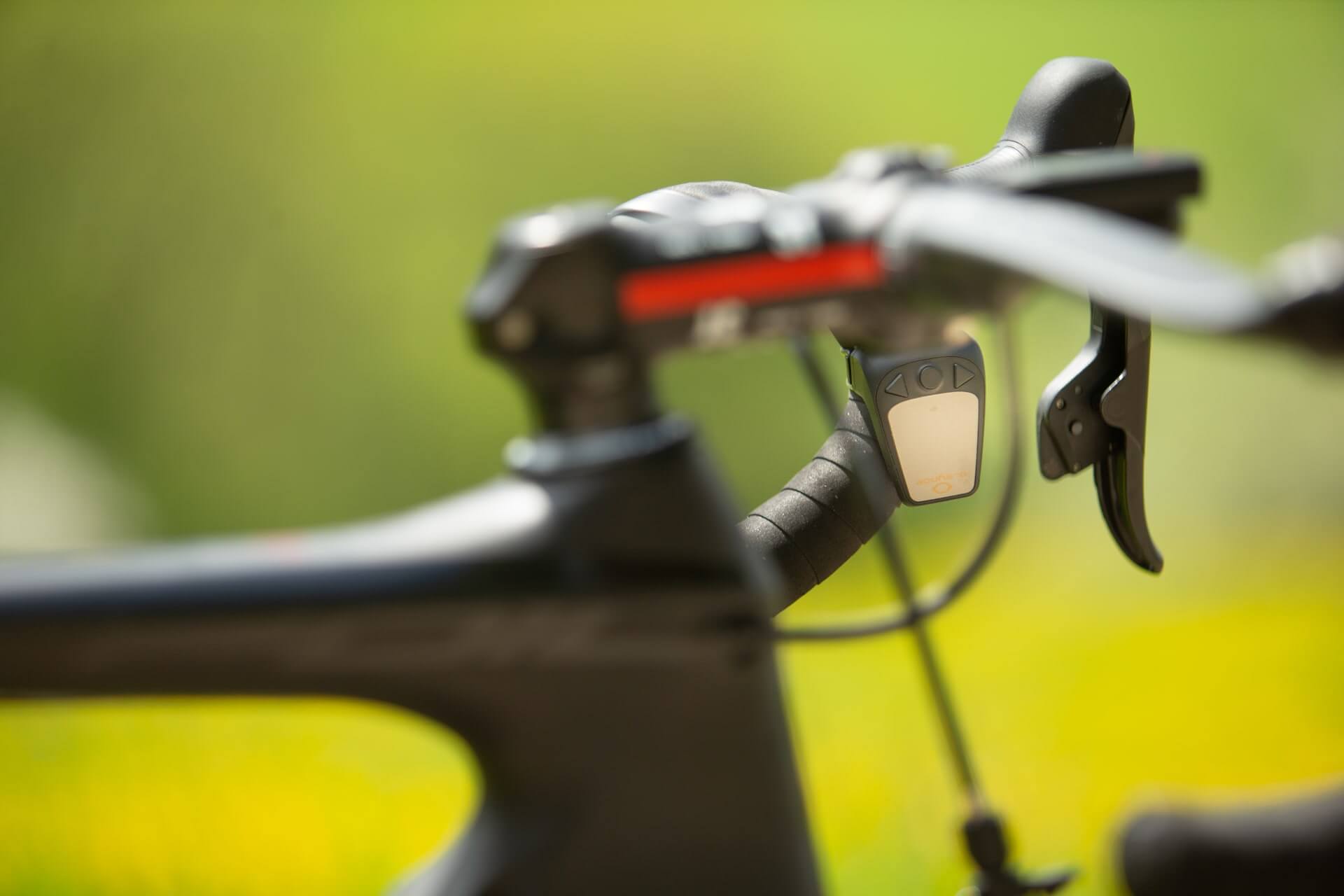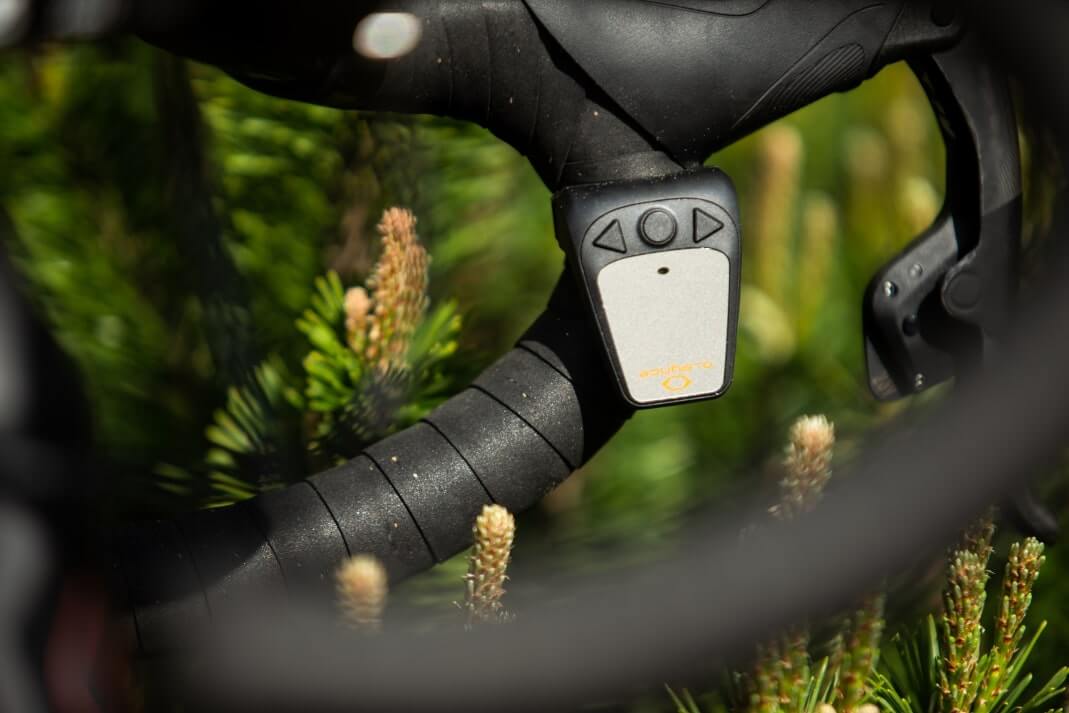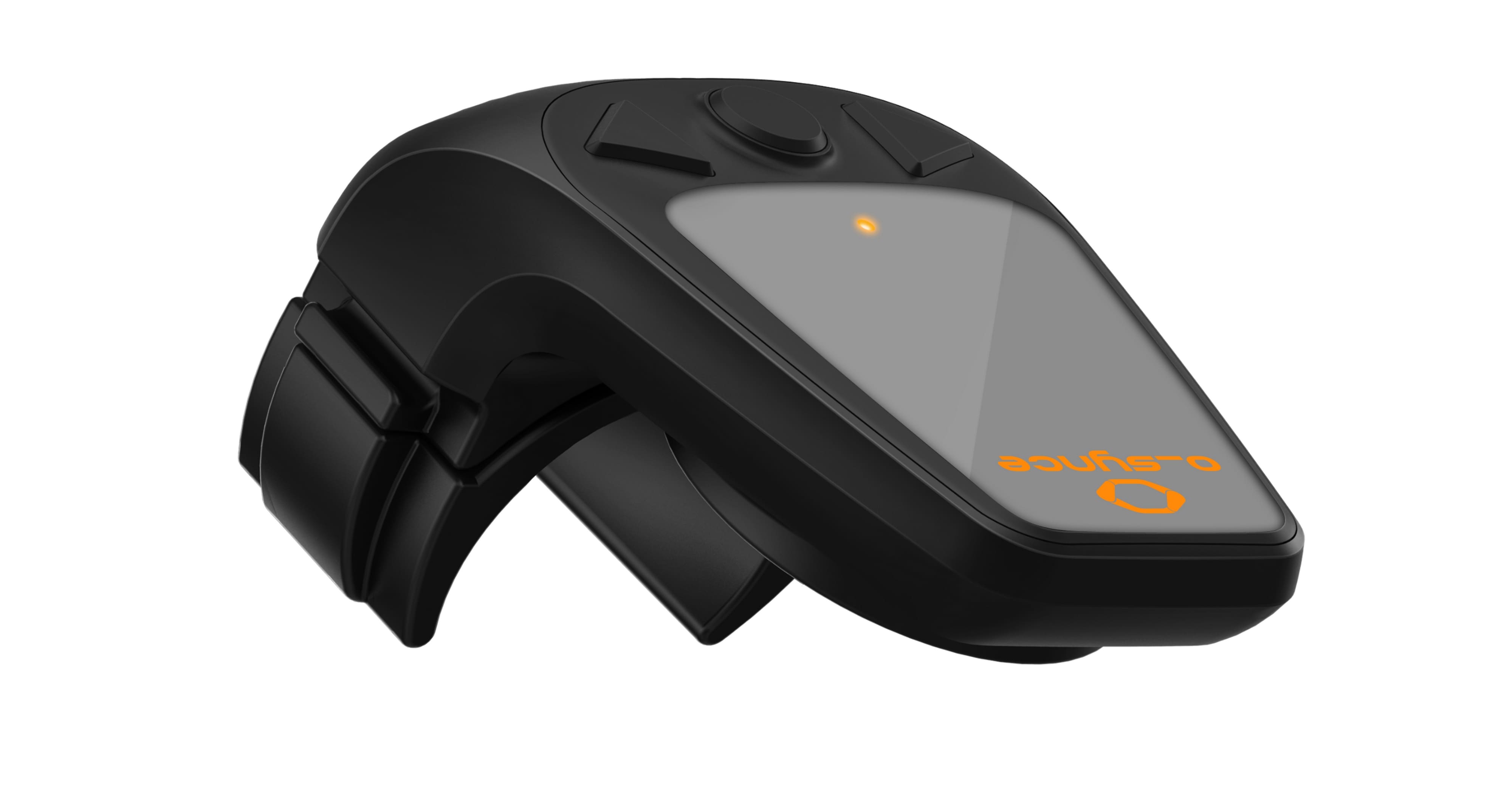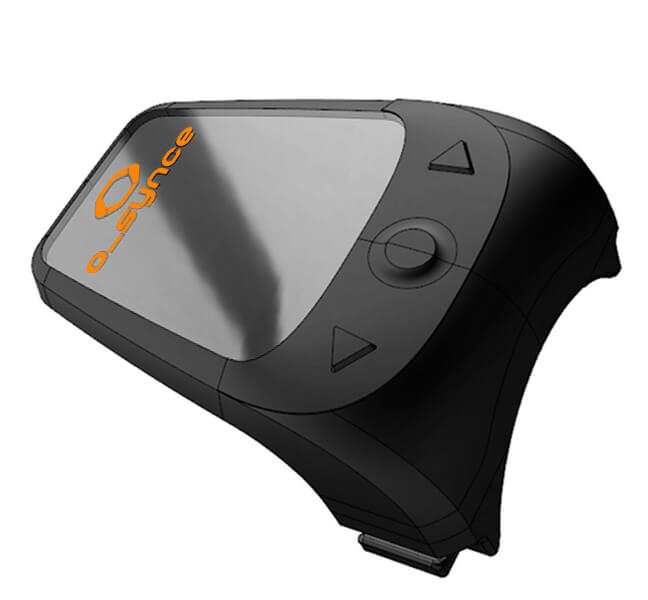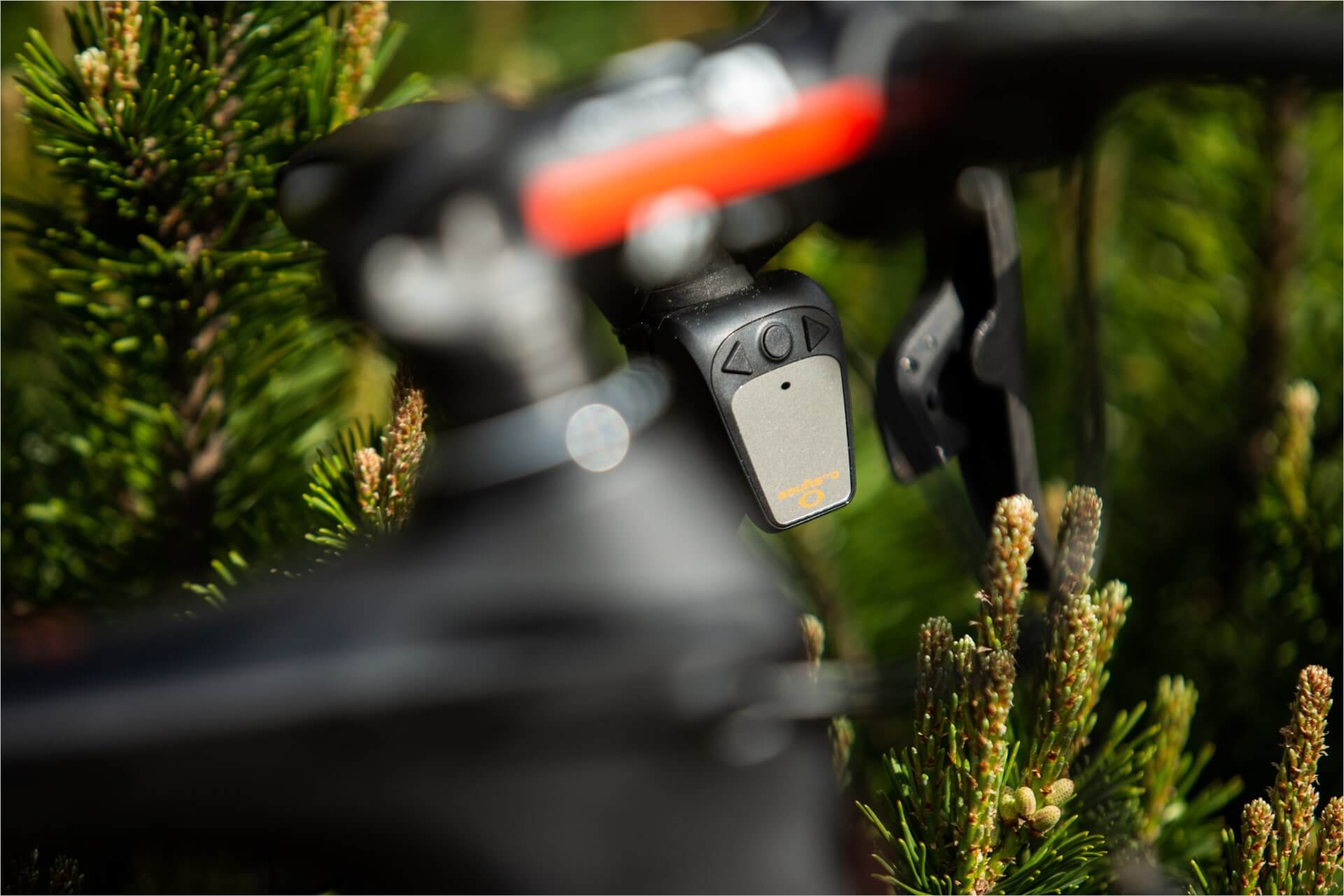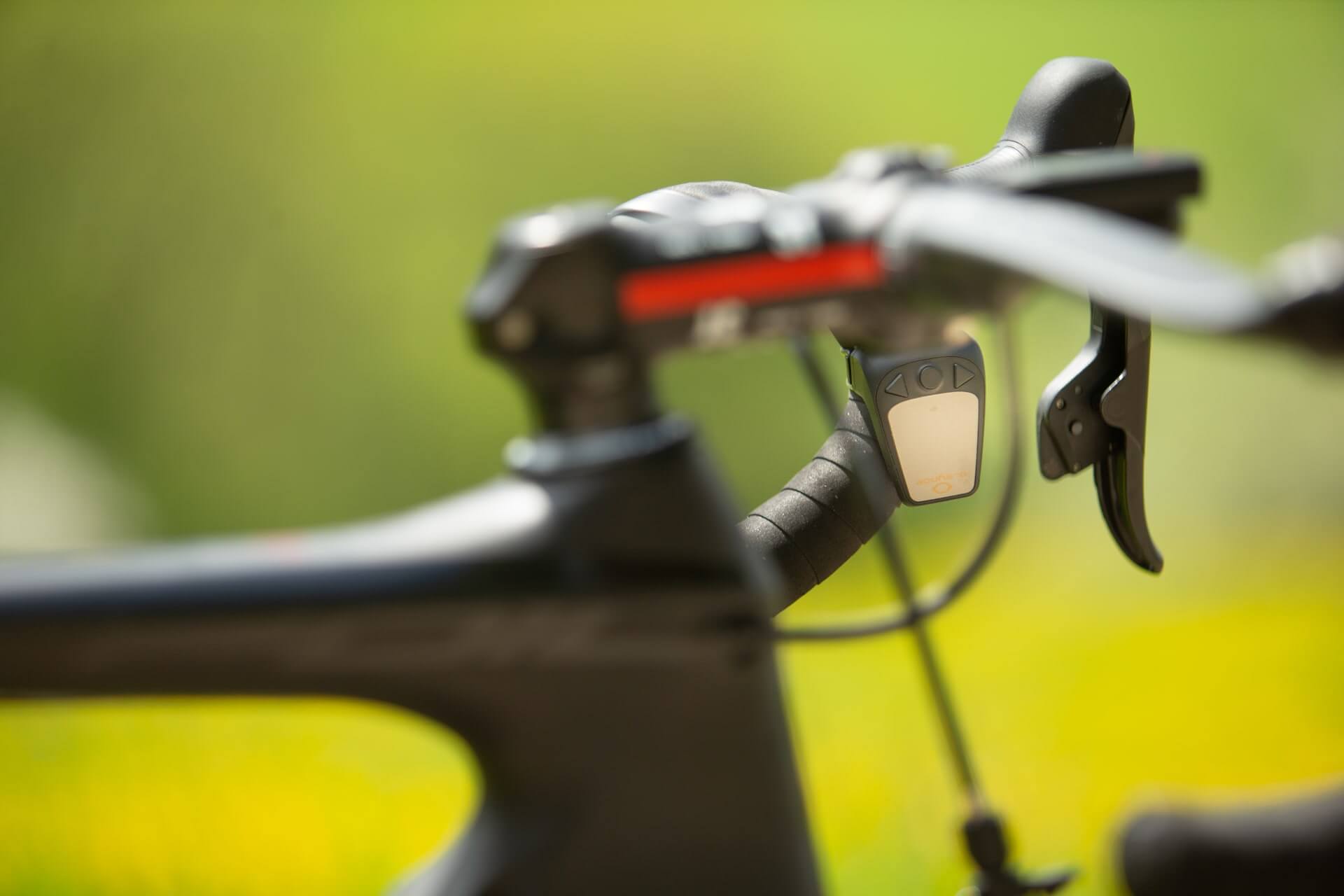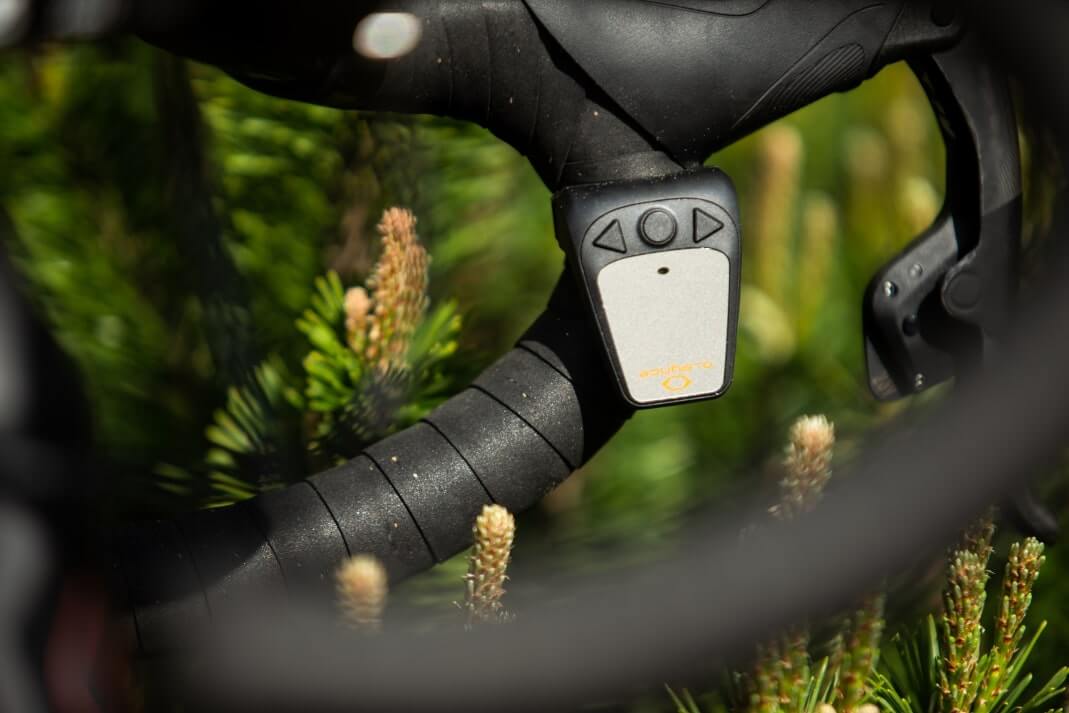 Product information "multiremote "
First Wireless Remote Control for Smartphones
The multiremote is the first wireless remote control that allows you to perform the functions of your smartphone* directly from the handlebars of your bicycle. Whether the smartphone is in your pocket or attached to the handlebars, you can use the multiremote to control both the music player and the display panels of compatible apps. Switching between two display modes or zooming in on the map is very easy.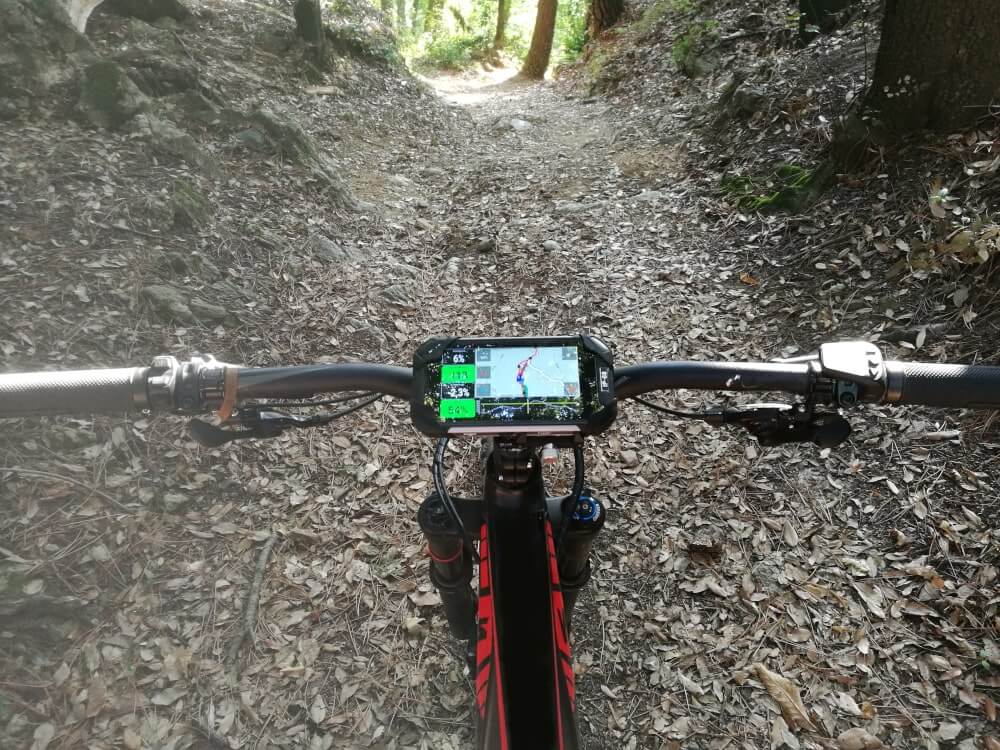 Functional Standards of multiremote
The multiremote works with two radio standards. In the figurative sense, multiremote "speaks" two "languages": ANT+ and Bluetooth Smart 4.0, also known under the former name Bluetooth Low Energy (BLE).
Each time you pair multiremote with a device, you can select the appropriate "language". If you select the "language" ANT+, you can use multiremote to operate either the coachsmart or the USEE. If you choose the "language" Bluetooth Smart 4.0, the multiremote can control the Scout app with all iPhones starting with model 4S. CycleOps, the specialist for indoor bikes, also offers a multiremote compatible app. More information about CycleOps at: cycleops.com
Multiremote and BLEvo App
You use the BLEvo App with your Specialized Turbo Levo or Kenevo? The BLEvo App transforms your Levo or Kenevo into a smart e-bike. This app allows you to configure some e-bike parameters and monitor your bike's performance. With the multiremote you can easily control the app directly from the handlebars. You can mount it either on the left or on the right side and you save the annoying operation via the touchscreen of your smartphone. Download the BLEvo app here for Android and here for iOS herunter.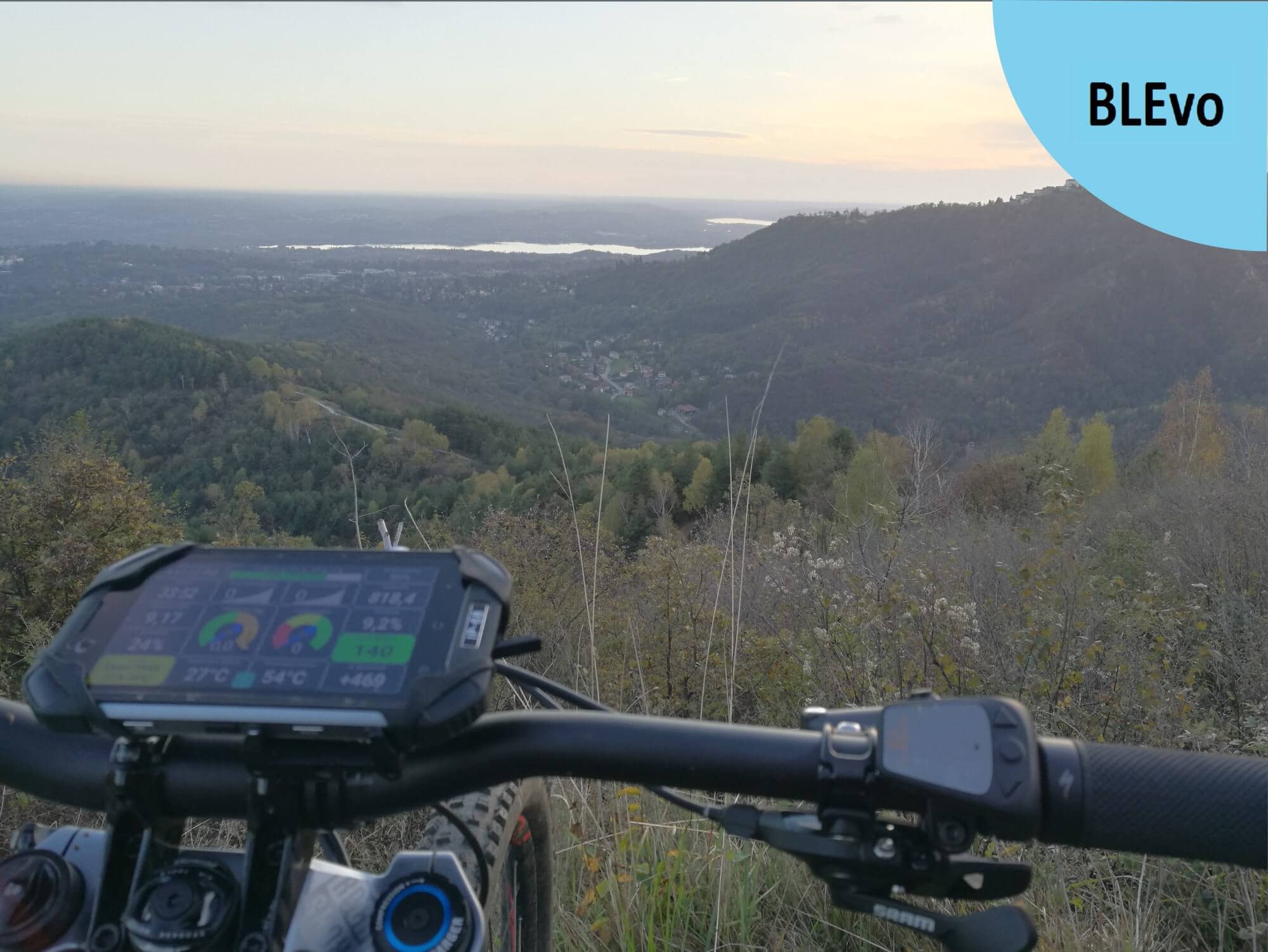 FAQs
1. Bestandteile der multiremote
Die multiremote besitzt drei Knöpfe, welche mit den Symbolen (▲, ● & ▼) markiert sind. Zusätzlich befindet sich mittig eine rot-/ grüne Status LED. Um die Fernbedienung bestmöglich am Lenker montieren zu können, befinden sich ein Lenkeradapter sowie verschiedene Gummiringe zur Montage im Lieferumfang.
2. Anbringung am Lenker
Die multiremote kann am Lenker, sowohl auf der rechten Seite als auch auf der linken Seite montiert werden. Um eine richtige Tastenbelegung zu erreichen, muss die multiremote auf die montierte Lenkerseite eingestellt werden. Bitte beachten Sie hierzu den Punkt "Einstellung der Montageseite" in dieser Bedienungsanleitung.
3. Aktivieren der Fernbedienung
Die Fernbedienung befindet sich im Standby Modus und wird aktiviert, indem Sie die mittlere Taste am Gerät drücken. Sobald die multiremote aktiviert wurde, leuchten die Status LED entsprechend periodisch auf.
4. Einstellen der Montageseite
Da die Fernbedienung sowohl auf der linken als auch auf der rechten Seite vom Lenker montiert werden kann, muss Sie für eine korrekte Tastenbelegung auf die jeweilige Montageseite eingestellt werden.

Montage auf der linken Seite des Lenkers: Nachdem Sie die multiremote auf der linken Seite montiert haben, halten Sie nun bitte die obere und mittlere Taste (▲ & ●) für ca. 2 Sekunden gedrückt. Sobald die Status LED für 2 Sekunden grün aufleuchtet ist die Fernbedienung auf die linke Lenkerseite eingestellt.

Montage auf der rechten Seite des Lenkers: Nachdem Sie die multiremote auf der rechten Seite montiert haben, halten Sie nun bitte die obere und mittlere Taste (▲ & ●) für ca. 2 Sekunden gedrückt. Sobald die Status LED für 2 Sekunden rot aufleuchtet
5. Pairing (Koppeln)
Beachten Sie hierbei auch die entsprechende Bedienungsanleitung Ihres Hauptgerätes (App oder ANT+ ™ Gerät) um bei diesem gegebenenfalls das "Pairing" zu starten. Kompatible Apps finden Sie auf unserer Homepage.

1. Bringen Sie nun die multiremote in die Nähe (1m) des Hauptgerätes.

2. Drücken und halten Sie die obere und untere Taste (▲ & ▼) für ca. 2 Sekunden. Nun leuchtet die Status LED grün und rot zusammen für 2 Sekunden.

3. Die Fernbedienung sucht nun nach einem Hauptgerät (gleichzeitiges grünes und rotes Blinken der Status LED).

4. Befolgen Sie gegebenenfalls die spezifischen Anweisungen zum "Pairing" im Benutzerhandbuch des Hauptgerätes.

5. Wechselt die Status LED auf grünes Blinken, ist die Fernbedienung mit dem Hauptgerät erfolgreich verbunden.
6. Ausschalten der multiremote
Wird die Verbindung der multiremote zu Ihrem Hauptgerät getrennt oder gar nicht erst aufgebaut, wechselt diese nach bis zu 150 Sekunden automatisch in den Standby Modus.
7. Batteriewechsel
Blinkt die Status LED im Betrieb periodisch rot, ist die enthaltene Batterie fast vollständig entleert und sollte ausgewechselt werden. Die Batterie der multiremote kann ohne besondere Kenntnisse und mit Hilfe einer 50 Euro-Cent Münze selbst gewechselt werden. Hierfür wird eine handelsübliche CR2032 Batterie benötigt, welche in die Fernbedienung neu eingelegt wird.

---
This is a must have if you
This is a must have if you use the App BLEvo and the bike Specialized!
Alles bestens u schneller Versand!! Danke! Letzte Remote hat allerdings nur zwei Jahre gehalten, dann kaputt. Hoffe die neue jetzt hält länger. Lag nicht an Batterie.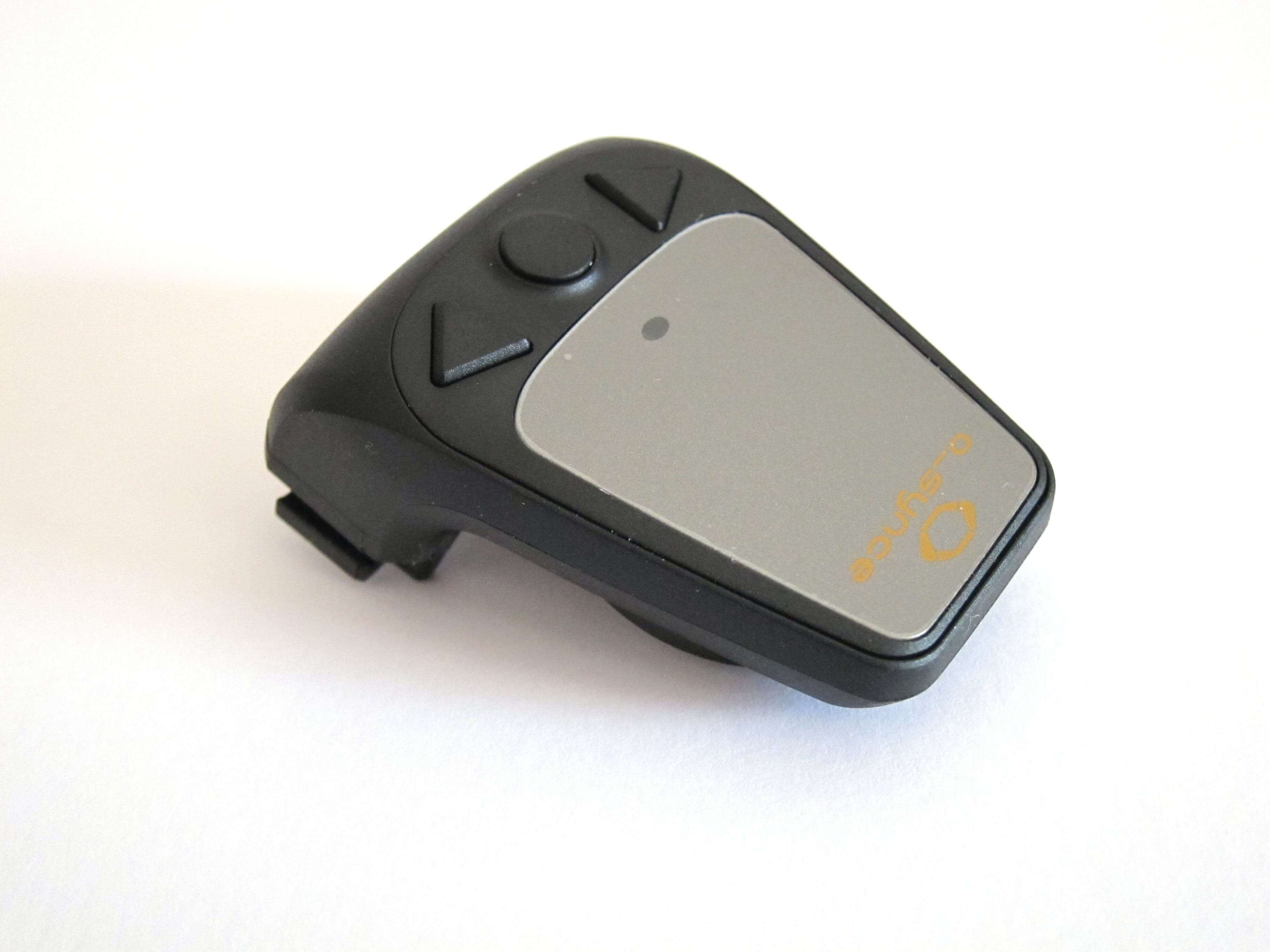 ANT + remote
Wireless Remote Control The ANT + Remote is the first wireless remote control for the navi2coach and the first Ant + remote control for an electronic device at all. With the three buttons of the remote, all functions of the navi2coach can be operated from afar. The remote control can be positioned as desired. The range is Ant + type is around 3 meters. In the future, Ant + -capable smartphones can also be operated via the Ant + Remote via a corresponding app. The remote is fixed to the handlebars via elastic rubber bands.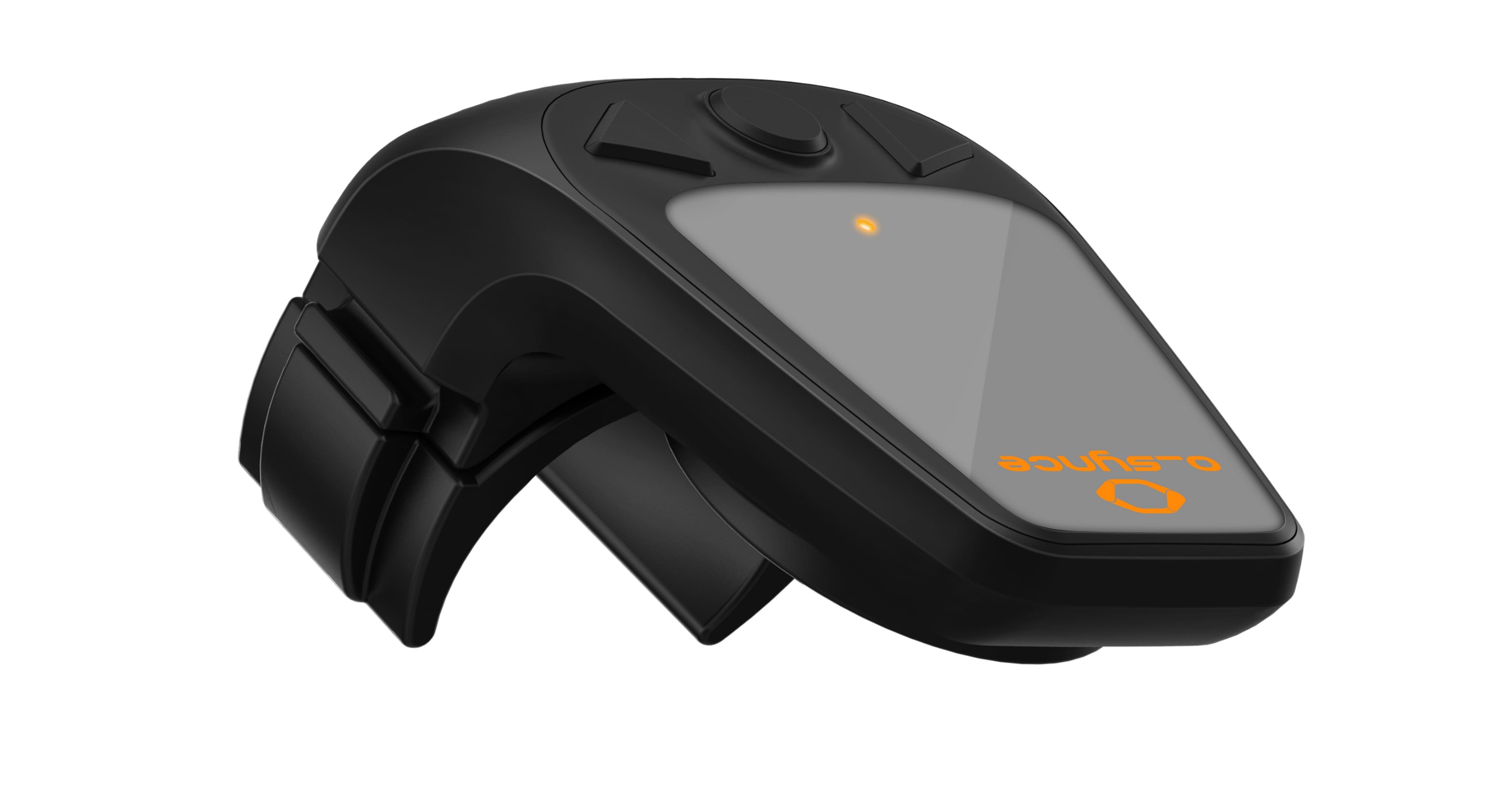 LEV multiremote
Remote control for Drive Control of E-Bikes LEV multiremote is a wireless remote control for the drive control of e-bikes with the ANT+ LEV profile (such as the Turbo LEVO series from SPECIALIZED up to models from 2018). It also offers the possibility to adjust the height of Vario seat posts, such as Magura VYRON eLECT. The LEV multiremote is very compact and waterproof. You can attach it very easily, depending on your preference, to the handlebars with an elastic rubber ring. LEV multiremote takes up very little space. The battery life is up to 500 hours.