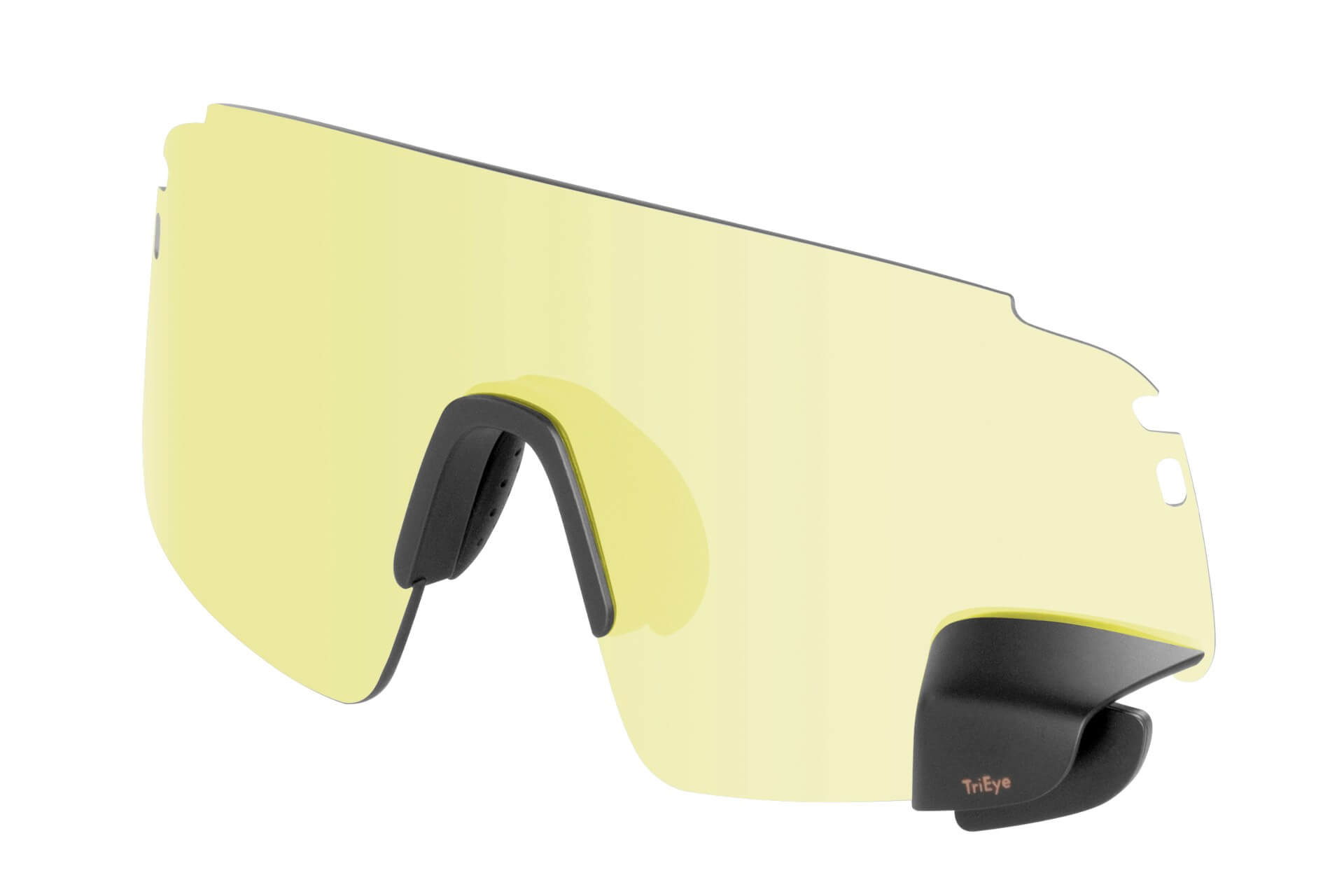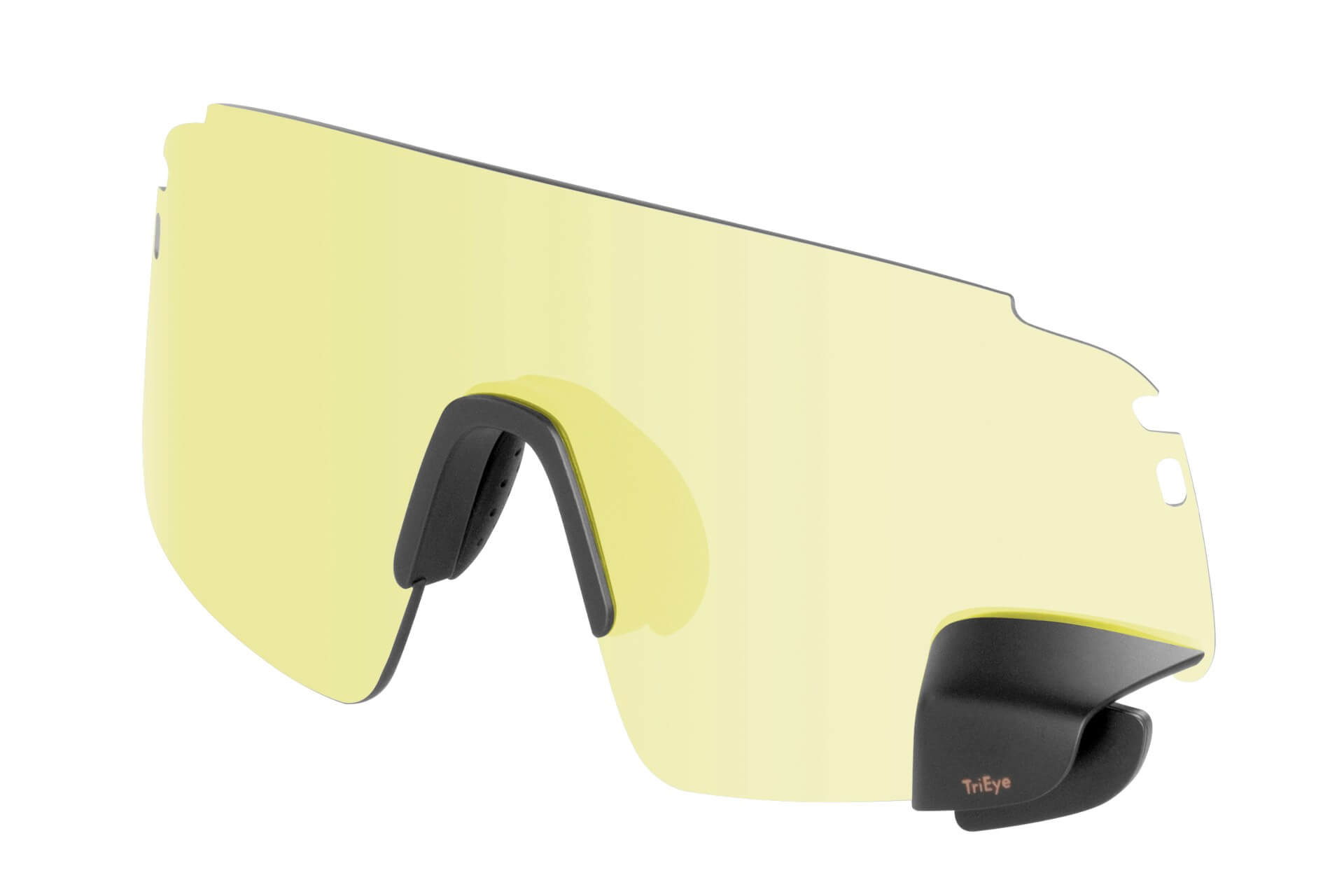 Available, delivery time: 1-3 days
Product number:
OSY-864.1
Product information "Spare lenses TriEye View Sport: yellow (size M)"
Attention: The purchase of this product is only replacement lenses incl. rear view mirror for the TriEye View Sport. Frame and nose pad are not included in the delivery.
The new Sports Glasses with integrated Rear View Mirror
The new TriEye™ model is a further development of the innovative glasses with rear view mirror. Above all this stands for new safety standards in road traffic and modern design with large panoramic glasses. The new XXL-Lenses provide protection from UV radiation and give the eye a more comfortable view in the rearview mirror. Compared to the previous model (TriEye PRO), the size of the new, adapted rear view mirror gives the eye a more optimized use. Thus, both the sporty and urban cyclists inside benefit from the safe view to the rear and clear view to the front.
A special feature of the new TriEye View lies in the sustainability of the glasses. In this way we guarantee the possible replacement of each individual component - whether for the lenses, the frame, rear view mirror, nose pad, etc.. The new model of TriEye™ is rounded off with a stylish design which contains tinted glasses and thus gives the eye a protective and comfortable effect. The 32 gram lightweight glasses offer an optimal fit thanks to the flexible temple and nose pad, UV400 protection and a anti-fog coating.
The new TriEye View in the City
Everyone wants to reach their destination as safely as possible. It is very important to correctly assess the situation in traffic. TriEye™ is your faithful companion in the city. Whether you're riding a bike or an e-scooter to get your Sunday sandwiches from your favorite bakery, the revised mirror size makes it even easier for you to look safely into the rearview mirror while still maintaining a clear view ahead.
TriEye™ during sports
The glasses are suitable for many sports and activities such as cycling, thriathlon, running, rowing and inlineskating. It's very helpful even if you're riding a Segway, e-scooter, or even a recumbent!
Tip for ambitious athletes:

Competitors or training partners who are about to overtake you can also be seen in the rearview mirror at an early stage. By seeing what is happening behind you, you gain a few important seconds of advantage and can thus increase your athletic performance and personal safety.
Use of TriEye™
TriEye™ works like a car rearview mirror and can be adjusted to fit you exactly. The rear view mirror is optimally adjusted, if you see a part of your cheek and shoulder in it. Please refrain from constantly looking in the mirror. Take a quick look to assess the traffic situation behind you and always remember to check the "blind spot".
Tip for parents:

A bicycle trailer is very popular with parents as well as with their offspring. Sometimes it is not only fun, but also a source of worry: during the ride you can't see what's happening with the trailer. You have to constantly turn around to check on your child. TriEye™ offers a simple and effective solution to the problem. With these innovative glasses, you'll have a better view of the trailer with just a slight movement of your head, increasing the safety of your little passenger. Be sure to check out this video and let TriEye™ convince you!
Features of the yellow replacement glasses
The glare protection of the TriEye™ yellow lenses corresponds to the categorie 0-1 and is therefore suitable for light light protection and cloudy weather conditions.The glasses are filled with full UV400 protection equipped and can be replaced by simply opening the latches on both sides . The mirror can be adjusted to fit any face shape and has an anti-fog coating. Since the glass is made of durable polycarbonate, you don't have to worry about accidentally dropping the glasses.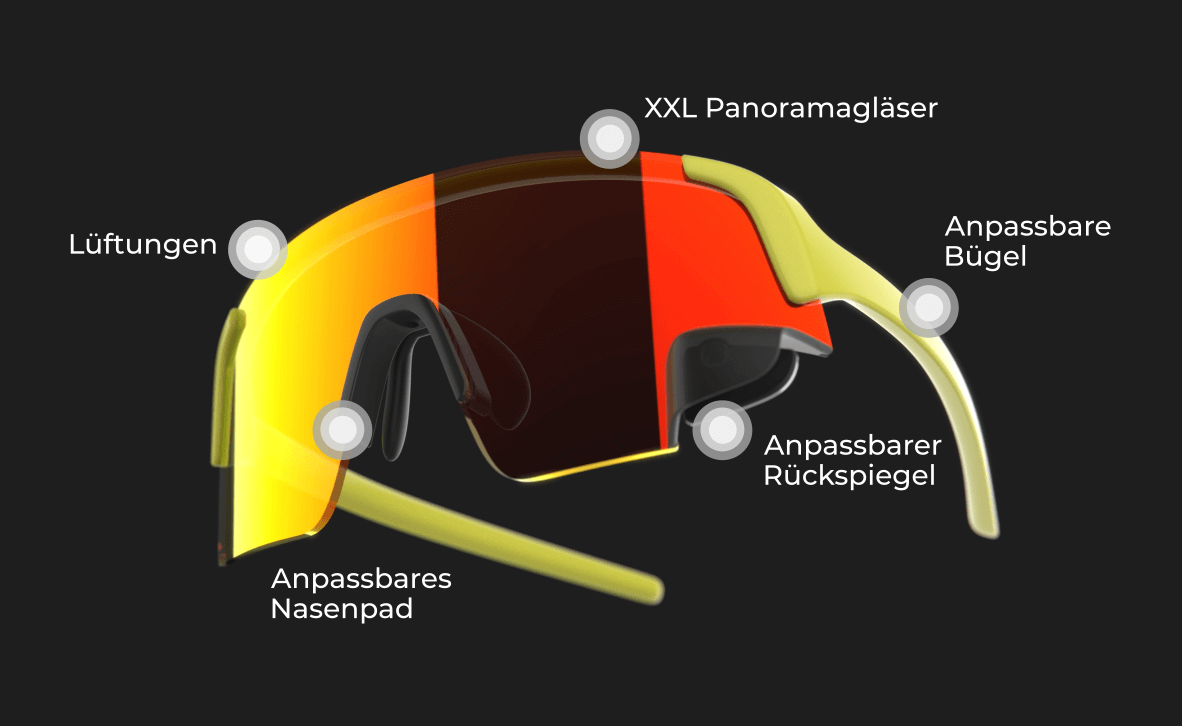 Awards
Within the ISPO Awards 2019 TriEye™ received the award in the category Outdoor and Biking and is the Gold Winner. With the Taipei Cycle d&i award 2018 and the Public's Choice der Eurobike Start-Up Award 2018 it is already the third award for the sports glasses with the rear view mirror.

Technical data
Total weight of the glasses (lenses, frame and nose pad): 32g
UV protection: UV400 (100% protection)
Lens material: Polykarbonat
Scope of delivery
Yellow spare glass
Glare protection
| Filter category. | Usability/ Suitability | Anti-glare factor | |
| --- | --- | --- | --- |
| 0 | Suitable for light light protection | Light absorption up to 20% | TriEye |
| 1 | Suitable for overcast, cloudy weather conditions | Light absorption from 20 to 57% | TriEye |
| 2 | Suitable for the summer sun in our latitudes | Light absorption up to 82% | TriEye |
| 3 | Suitable for bright sunlight, e.g. midday sun, on the beach | Light absorption up to 92% | |
| 4 | Suitable for extremely high solar radiation, e.g. in high mountains, in the desert; Unsuitable for driving! | Light absorption up to 97% | |
---
Genau das was man bei Nebel und
Genau das was man bei Nebel und schlechter Sicht braucht, weil es den Kontrast erhöht.
Prima Optik für neblige und trübe Tage.
Prima Optik für neblige und trübe Tage. Oder in der Dämmerung.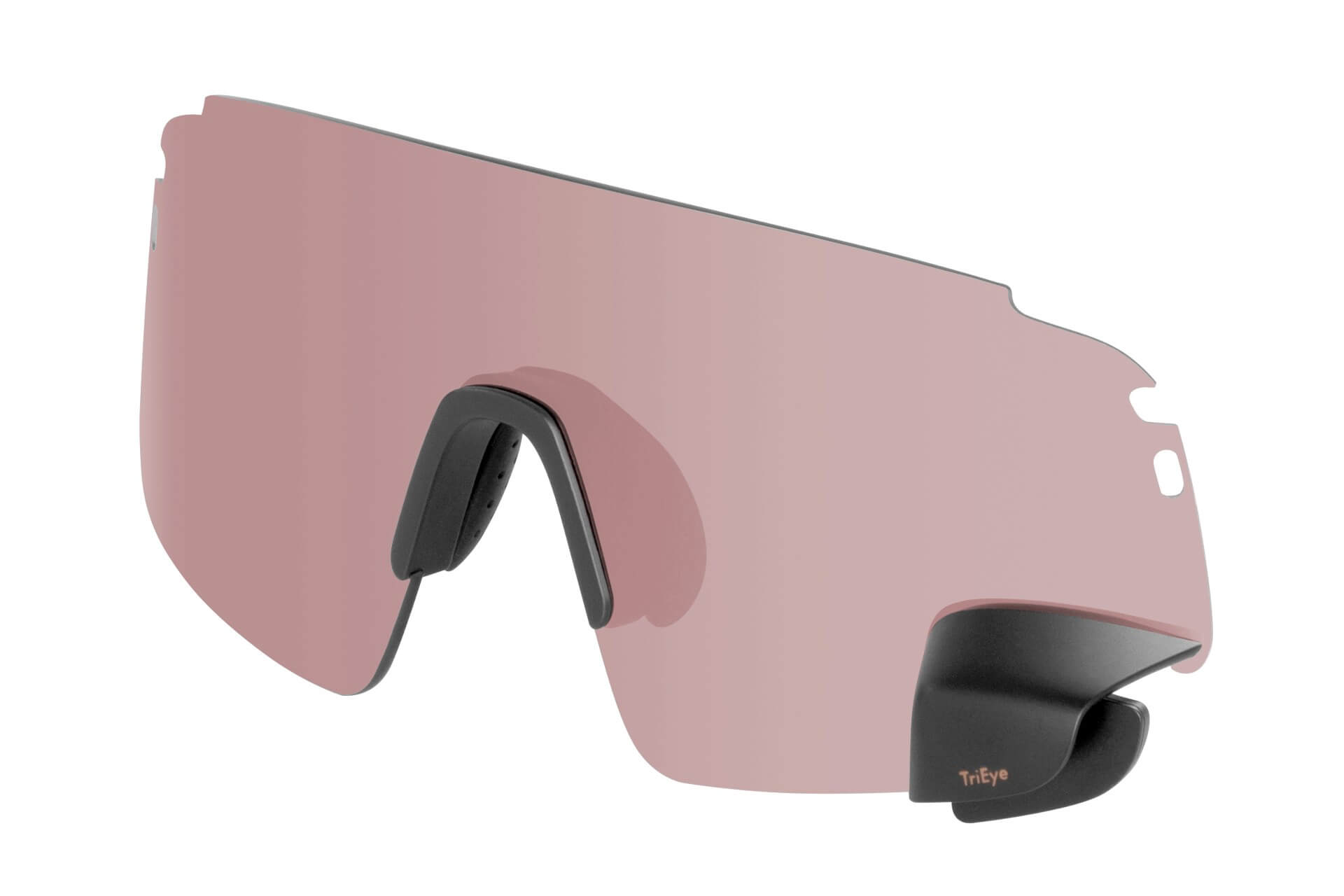 Spare lens TriEye View Sport: High Definition (rose) (Size M/L)
Attention! This product is only the lens, it does include the rear view mirror BUT IT DOES NOT include the nose pad. The new sports glasses with integrated rear view mirror The new TriEye™ model is a further development of the innovative sports glasses with rear view mirror. This stands for new safety standards in traffic and modern design with large panoramic lenses. The new XXL lenses provide protection from UV radiation and give the eye a more comfortable view in the rearview mirror. Compared to the previous model (TriEye PRO), the size of the new adapted rear view mirror gives the eye a more optimized use. Thus, both the sporty and urban cyclists benefit from the safe view to the back and clear view to the front. A special feature of the new TriEye View is the sustainability of the glasses. We guarantee the possible replacement of each individual component - whether for the lenses, the frame, rear view mirror, nose pad, etc.. Rounding out the new TriEye™ model is a stylish design that includes smoke lenses, giving the eye a protective and comfortable effect. The 32 gram lightweight goggles offer an optimal fit thanks to the moldable temple and nose pad, UV400 protection and anti-fog coating. Included with the purchase of the new View SPORT REVO MAX (red) are the glasses with frame, tinted lenses, a microfiber pouch, glasses case and a glasses cleaning cloth. The new TriEye View in the city Everyone wants to reach their destination as safely as possible. It is very important to correctly assess the situation in traffic. TriEye™ is also your faithful companion in the city. Whether you're riding a bike or an e-scooter, the revised mirror size makes it even easier for you to look safely into the rearview mirror while still maintaining a clear view ahead. TriEye™ in sports The glasses are suitable for many sports and activities such as cycling, thriathlon, running, rowing and inline skating. It's also very helpful when you're riding a Segway, e-scooter or even a recumbent bike! Tip for ambitious athletes: Competitors or training partners who are about to overtake can also be seen early in the rearview mirror. By seeing what is happening behind you, you gain a few important seconds of advantage and can thus increase your athletic performance and personal safety. Using TriEye™ TriEye™ works like a car rearview mirror and can be adjusted to fit you exactly. The rearview mirror is optimally adjusted when you can see part of your cheek in it. Please refrain from looking permanently into the mirror. Take a quick look to assess the traffic situation behind you and always remember to check the "blind spot". Tip for parents: A bicycle trailer is very popular among parents as well as their offspring. Sometimes it is not only fun, but also a source of concern: during the ride you can't see what's going on with the trailer. You have to constantly turn around to check on your child. TriEye™ offers a simple and effective solution to the problem. With these innovative glasses, you'll have a better view of the trailer with just a slight movement of your head, increasing the safety of your little passenger. Be sure to check out this video and let TriEye™ convince you! Features of the contrast enhanced replacement lenses The glare protection of the mirrored View SPORT High Definition by TriEye™ in the Rose variant corresponds to category 3 and is therefore suitable for bright sunlight, e.g. for use in the midday sun. The rose-colored lens reduces glare and thus optimizes contrast sensitivity. Especially for outdoor activities, this offers a great number of advantages. By simply opening the latches on both sides, the lenses can be changed in seconds. The glasses are equipped with the adjustable rear view mirror and full UV400 protection. The mirror can be adjusted to any face shape and has an anti-fog coating. Since the lens is made of durable polycarbonate, you don't have to worry about accidentally dropping the glasses. The frame of the glasses consists of a durable plastic polymer, which combines low weight and enormous load capacity. The four frame vents provide optimal airflow. Awards At the ISPO Awards 2019, TriEye™ received the Gold Winner award in the Outdoor > Biking category. After the Taipei Cycle d&i award 2018 and the Public's Choice of the Eurobike Start-Up Award 2018, it is already the third award for the sports glasses with the rear view mirror. Technical Data Weight: 30g UV Protection: UV400 (100% Protection with all glasses) Frame material: Grilamid TR90 Lens material: Polykarbonat Mirror material: Polykarbonat Scope of delivery Glasses with temples and smoke lens Spectacle case Microfibre bag Glasses cleaning cloth Glare protection Filter category. Usability/ Suitability Anti-glare factor 0 Suitable for light light protection Light absorption up to 20% TriEye 1 Suitable for overcast, cloudy weather conditions Light absorption from 20 to 57% TriEye 2 Suitable for the summer sun in our latitudes Light absorption up to 82% TriEye 3 Suitable for bright sunlight, e.g. midday sun, on the beach Light absorption up to 92% TriEye 4 Suitable for extremely high solar radiation, e.g. in high mountains, in the desert; Unsuitable for driving! Light absorption up to 97%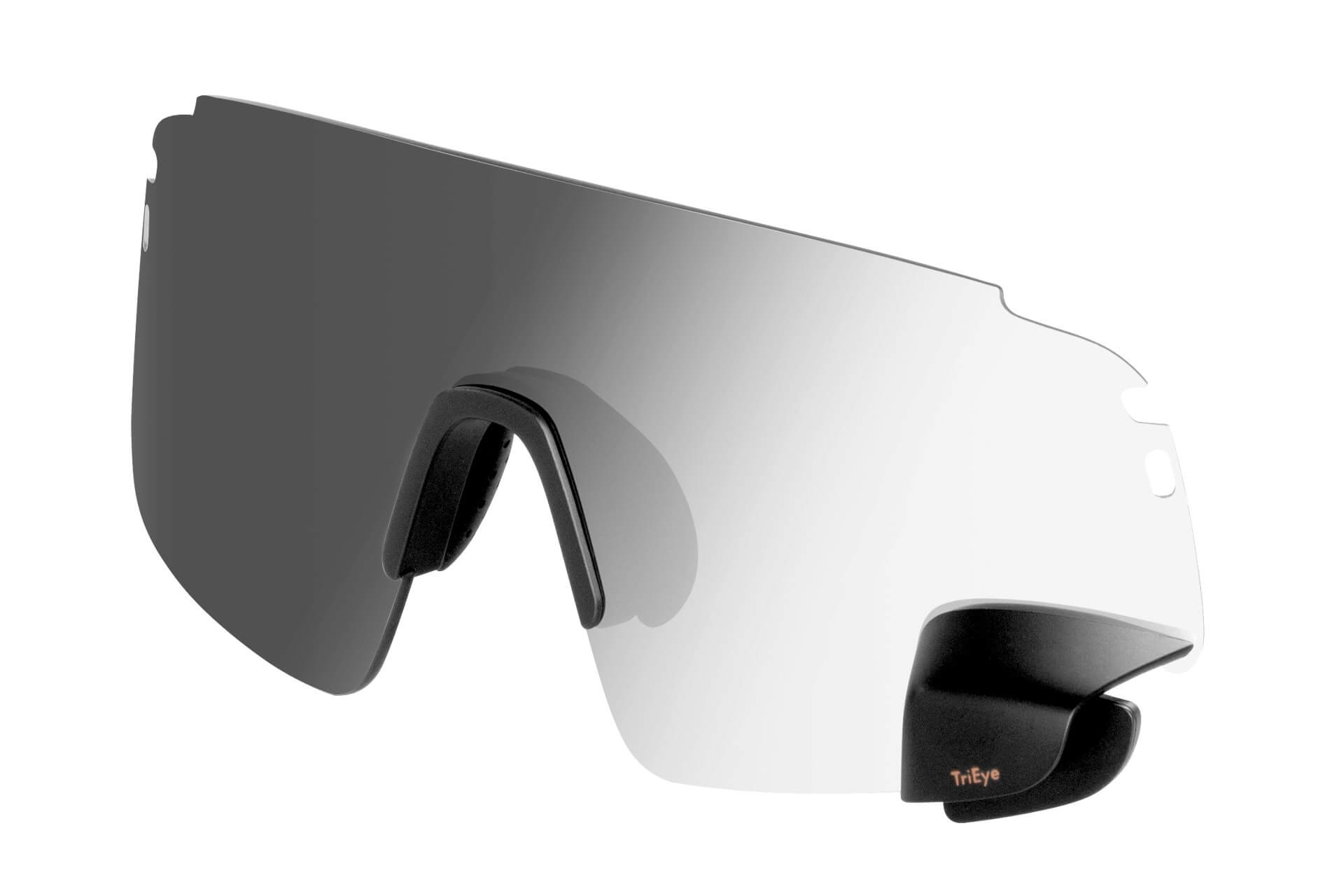 Spare lens TriEye View Sport: Photo Chromatic (Size M)
Attention! This product is only the lens, it does include the rear view mirror BUT IT DOES NOT include the nose pad. The new sports glasses with integrated rear view mirror The new TriEye™ model is a further development of the innovative sports glasses with rear view mirror. This stands for new safety standards in traffic and modern design with large panoramic lenses. The new XXL lenses provide protection from UV radiation and give the eye a more comfortable view in the rearview mirror. Compared to the previous model (TriEye PRO), the size of the new adapted rear view mirror gives the eye a more optimized use. Thus, both the sporty and urban cyclists benefit from the safe view to the back and clear view to the front. A special feature of the new TriEye View is the sustainability of the glasses. We guarantee the possible replacement of each individual component - whether for the lenses, the frame, rear view mirror, nose pad, etc.. Rounding out the new TriEye™ model is a stylish design that includes smoke lenses, giving the eye a protective and comfortable effect. The 32 gram lightweight goggles offer an optimal fit thanks to the moldable temple and nose pad, UV400 protection and anti-fog coating. Included with the purchase of the new View SPORT REVO MAX (red) are the glasses with frame, tinted lenses, a microfiber pouch, glasses case and a glasses cleaning cloth. The new TriEye View in the city Everyone wants to reach their destination as safely as possible. It is very important to correctly assess the situation in traffic. TriEye™ is also your faithful companion in the city. Whether you're riding a bike or an e-scooter, the revised mirror size makes it even easier for you to look safely into the rearview mirror while still maintaining a clear view ahead. TriEye™ in sports The glasses are suitable for many sports and activities such as cycling, thriathlon, running, rowing and inline skating. It's also very helpful when you're riding a Segway, e-scooter or even a recumbent bike! Tip for ambitious athletes: Competitors or training partners who are about to overtake can also be seen early in the rearview mirror. By seeing what is happening behind you, you gain a few important seconds of advantage and can thus increase your athletic performance and personal safety. Using TriEye™ TriEye™ works like a car rearview mirror and can be adjusted to fit you exactly. The rearview mirror is optimally adjusted when you can see part of your cheek in it. Please refrain from looking permanently into the mirror. Take a quick look to assess the traffic situation behind you and always remember to check the "blind spot". Tip for parents: A bicycle trailer is very popular among parents as well as their offspring. Sometimes it is not only fun, but also a source of concern: during the ride you can't see what's going on with the trailer. You have to constantly turn around to check on your child. TriEye™ offers a simple and effective solution to the problem. With these innovative glasses, you'll have a better view of the trailer with just a slight movement of your head, increasing the safety of your little passenger. Be sure to check out this video and let TriEye™ convince you! Features of the photochromatic glasses The glare protection of the TriEye™ photochromic lenses corresponds to category 0-2 and is therefore suitable for both summer sun and cloudy weather conditions. The self-tinting lens darkens in bright light conditions and brightens again in dark surroundings. This constant, automatic adjustment allows your eyes to see more relaxed. The glasses are equipped with the adjustable rear view mirror and full UV400 protection. The mirror can be adjusted to any face shape and has an anti-fog coating. Since the lens is made of durable polycarbonate, you don't have to worry about accidentally dropping the glasses. The frame of the glasses consists of a durable plastic polymer, which combines low weight and enormous load capacity. The four frame vents provide optimal airflow. Awards At the ISPO Awards 2019, TriEye™ received the Gold Winner award in the Outdoor > Biking category. After the Taipei Cycle d&i award 2018 and the Public's Choice of the Eurobike Start-Up Award 2018, it is already the third award for the sports glasses with the rear view mirror. Technical Data Weight: 30g UV Protection: UV400 (100% Protection with all glasses) Frame material: Grilamid TR90 Lens material: Polykarbonat Mirror material: Polykarbonat Scope of delivery Glasses with temples and smoke lens Spectacle case Microfibre bag Glasses cleaning cloth Glare protection Filter category. Usability/ Suitability Anti-glare factor 0 Suitable for light light protection Light absorption up to 20% TriEye 1 Suitable for overcast, cloudy weather conditions Light absorption from 20 to 57% TriEye 2 Suitable for the summer sun in our latitudes Light absorption up to 82% TriEye 3 Suitable for bright sunlight, e.g. midday sun, on the beach Light absorption up to 92% TriEye 4 Suitable for extremely high solar radiation, e.g. in high mountains, in the desert; Unsuitable for driving! Light absorption up to 97%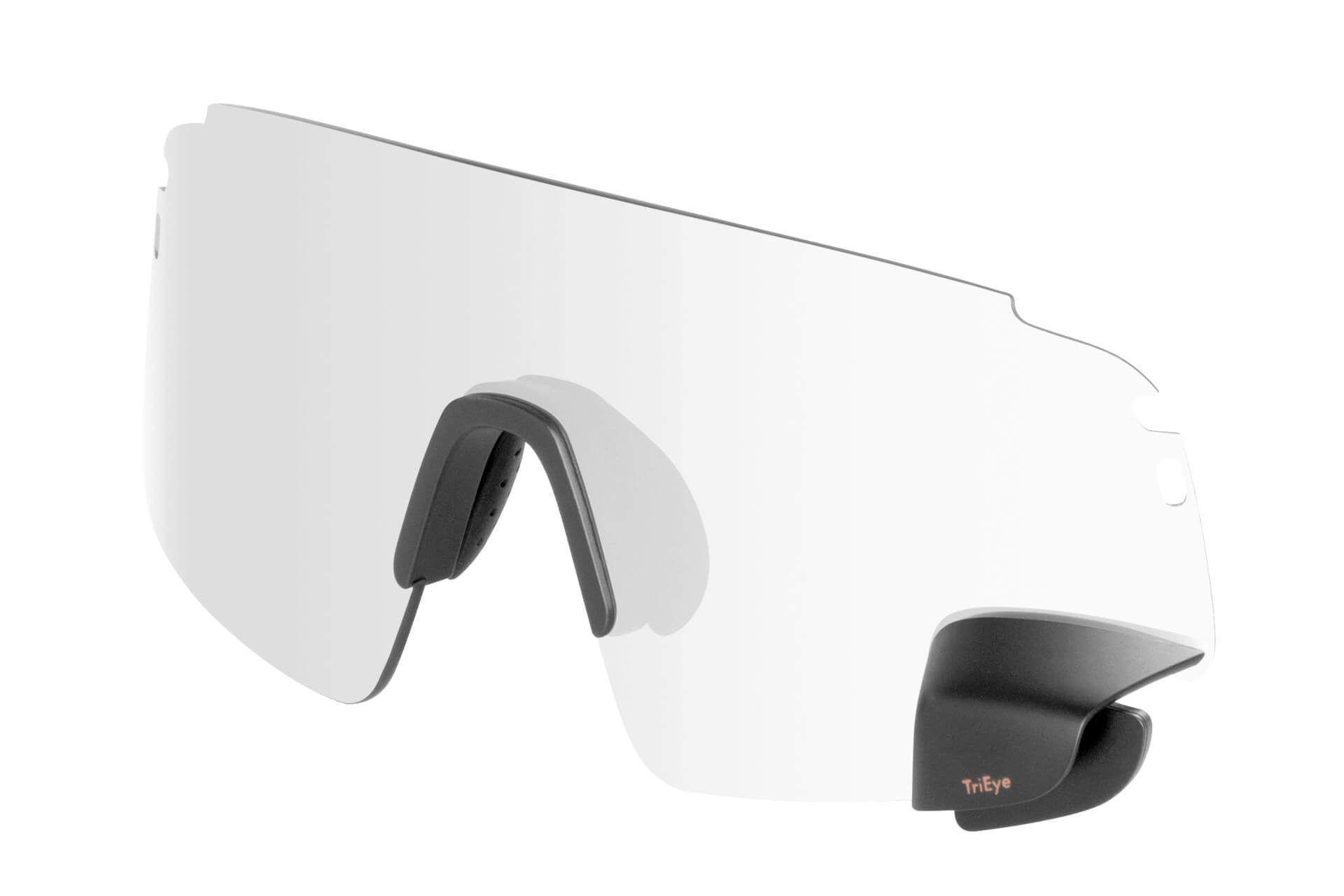 Spare lenses TriEye View Sport: clear (size M)
Attention: The purchase of this product is only replacement lenses incl. rear view mirror for the TriEye View Sport. Frame and nose pad are not included in the delivery. The new Sports Glasses with integrated Rear View Mirror The new TriEye™ model is a further development of the innovative glasses with rear view mirror. Above all this stands for new safety standards in road traffic and modern design with large panoramic glasses. The new XXL-Lenses provide protection from UV radiation and give the eye a more comfortable view in the rearview mirror. Compared to the previous model (TriEye PRO), the size of the new, adapted rear view mirror gives the eye a more optimized use. Thus, both the sporty and urban cyclists inside benefit from the safe view to the rear and clear view to the front. A special feature of the new TriEye View lies in the sustainability of the glasses. In this way we guarantee the possible replacement of each individual component - whether for the lenses, the frame, rear view mirror, nose pad, etc.. The new model of TriEye™ is rounded off with a stylish design which contains tinted glasses and thus gives the eye a protective and comfortable effect. The 32 gram lightweight glasses offer an optimal fit thanks to the flexible temple and nose pad, UV400 protection and a anti-fog coating. The new TriEye View in the City Everyone wants to reach their destination as safely as possible. It is very important to correctly assess the situation in traffic. TriEye™ is your faithful companion in the city. Whether you're riding a bike or an e-scooter to get your Sunday sandwiches from your favorite bakery, the revised mirror size makes it even easier for you to look safely into the rearview mirror while still maintaining a clear view ahead. TriEye™ during sports The glasses are suitable for many sports and activities such as cycling, thriathlon, running, rowing and inlineskating. It's very helpful even if you're riding a Segway, e-scooter, or even a recumbent! Tip for ambitious athletes: Competitors or training partners who are about to overtake you can also be seen in the rearview mirror at an early stage. By seeing what is happening behind you, you gain a few important seconds of advantage and can thus increase your athletic performance and personal safety. Use of TriEye™ TriEye™ works like a car rearview mirror and can be adjusted to fit you exactly. The rear view mirror is optimally adjusted, if you see a part of your cheek and shoulder in it. Please refrain from constantly looking in the mirror. Take a quick look to assess the traffic situation behind you and always remember to check the "blind spot". Tip for parents: A bicycle trailer is very popular with parents as well as with their offspring. Sometimes it is not only fun, but also a source of worry: during the ride you can't see what's happening with the trailer. You have to constantly turn around to check on your child. TriEye™ offers a simple and effective solution to the problem. With these innovative glasses, you'll have a better view of the trailer with just a slight movement of your head, increasing the safety of your little passenger. Be sure to check out this video and let TriEye™ convince you! Features of the clear replacement glasses The glare protection of the TriEye™ clear lenses corresponds to the categorie 0 and is therefore suitable for light light protection. The glasses can be replaced by simply opening the latches on both sides . The mirror can be adjusted to fit any face shape and has an anti-fog coating. Since the glass is made of durable polycarbonate, you don't have to worry about accidentally dropping the glasses. Awards Within the ISPO Awards 2019 TriEye™ received the award in the category Outdoor and Biking and is the Gold Winner. With the Taipei Cycle d&i award 2018 and the Public's Choice der Eurobike Start-Up Award 2018 it is already the third award for the sports glasses with the rear view mirror. Technical data Total weight of the glasses (lenses, frame and nose pad): 32g UV protection: UV400 (100% protection) Lens material: Polykarbonat Scope of delivery Yellow spare glass Glare protection Filter category. Usability/ Suitability Anti-glare factor 0 Suitable for light light protection Light absorption up to 20% TriEye 1 Suitable for overcast, cloudy weather conditions Light absorption from 20 to 57% TriEye 2 Suitable for the summer sun in our latitudes Light absorption up to 82% TriEye 3 Suitable for bright sunlight, e.g. midday sun, on the beach Light absorption up to 92% 4 Suitable for extremely high solar radiation, e.g. in high mountains, in the desert; Unsuitable for driving! Light absorption up to 97%