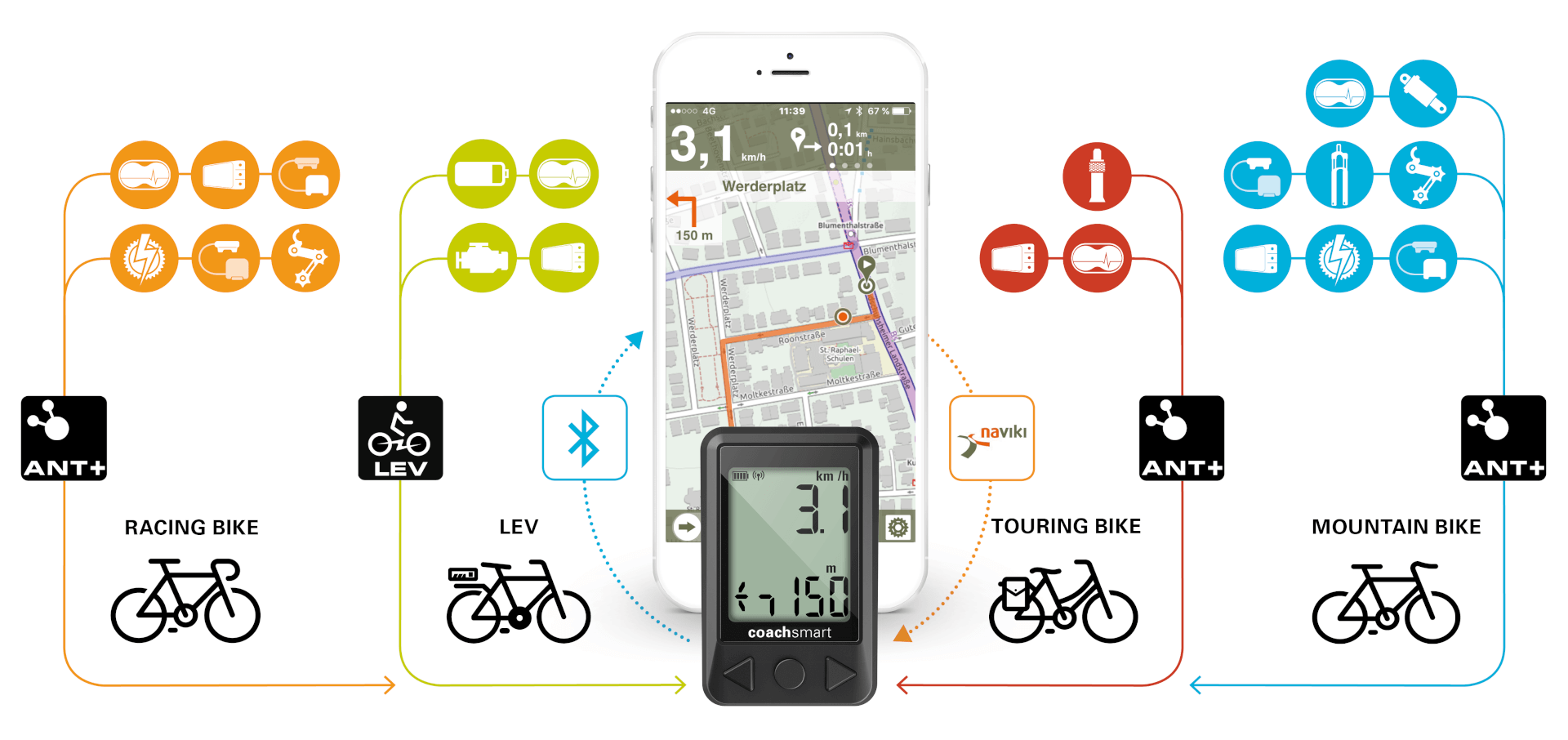 One bike computer - countless possibilities
The coachsmart is your ideal companion, whether you are riding an e-bike or a "bio-bike" without electric assistance. This wireless bike computer shows you all the important information, such as speed, distance, battery status of your e-bike, ... and you can also use it as a navigation device.
We offer hree different types of coachsmart. From the outside they are the same. The only difference is in the software. In most casesyou can use the classic coachsmart. It is compatible with e-bikes as well as with various ANT+ sensors and, thanks to Bluetooth, also with smartphones.
If you still own a Specialized Turbo Levo or Kenevo e-bike built in 2017, you can access the coachsmart LEV. This may offer the option to switch the support levels of the bike. This option is no longer available later, as Specialized has installed its own switch. The coachsmart for GoSwiss Drive is only suitable for older e-bike models with this motor. These include, for example, Bulls Green Mover, Simplon Kagu and Cube Epo.
coachsmart
Compatible E-bikes: Specialized Turbo Levo & Kenevo (2018 and newer), selected e-bikes from Giant und Liv, Orbea Gain, Rocky Mountain Powerplay (with iWoc TRIO V3 remote)
Connectivity: ANT+ for sensors, Bluetooth® Low Energy for smartphone, ANT+ LEV for e-bikes
coachsmart LEV
Compatible E-bikes: Specialized Turbo Levo & Kenevo - 2017
Connectivity: ANT+ for sensors, Bluetooth® Low Energy for smartphone, ANT+ LEV for e-bikes
coachsmart for GoSwiss Drive
Compatible E-bikes: older GoSwiss Drive e-bikes, e.g..: Bulls Green Mover, Simplon Kagu, Cube Epo
Connectivity: ANT+ for sensors, Bluetooth® Low Energy for smartphone, ANT for e-bikes